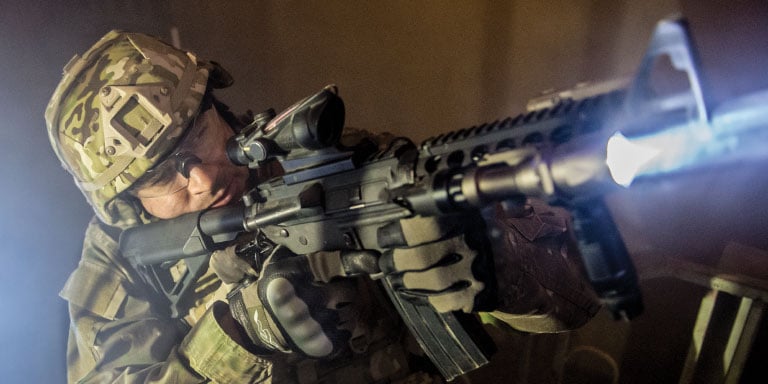 In October 2006, a study by the Womack Army Medical Center found that about 10 percent of battlefield wounds occur to soldiers' eyes. In an effort to help curtail these often preventable injuries, the Army carefully tests new safety glasses and goggles to ensure they meet rigorous U.S. Military standards. The end result is the Authorized Protective Eyewear List, or APEL. There is no official shopping resource for APEL regulation, so we compiled a comprehensive buyer's guide to better service soldiers. If you're looking for authorized protective eyewear, you're in the right place.
The Authorized Protective Eyewear List

Items marked "Rx" are compatible with a Universal Prescription Lens Carrier (UPLC)

NOTE: Only clear and neutral gray sunglass lenses are approved
Wiley X
In business since 1987, Wiley X is no stranger to making tough, durable glasses. The goal from the beginning was to produce innovative, mission-ready eyewear specifically for members of the U.S. Armed Forces. It is no wonder the Army tapped the brand to produce APEL eyewear since the list's inception.
Revision Military
Revision Military is another brand the Army asked to produce APEL eyewear for the list's first iteration. Revision's engineers focus on innovating every aspect of its eyewear. Not only meeting but also exceeding military standards for ballistic protection, Revision Military goggles and sunglasses help protect soldiers from UV rays, fragments, fog and many other potential combat hazards.
ESS Eye Pro
Many soldiers used ESS Eye Pro products before APEL mandated them. This speaks volumes to ESS's top level of impact protection. As the exclusive provider of authorized eyewear for Marines, ESS has a breadth of experience making military-grade eyewear. This lightweight, reliable eyewear offers peak protection when soldiers need it most.
Oakley
Oakley is one of the most well-known manufacturers of eyewear for military members and law enforcement officials. In its early years, Oakley caught the eye of the Department of Defense and began to design items specifically for servicemen and women. When the APEL list first surfaced, Oakley products made the list and have been there since.
Smith Optics
In the mid 1960s, Smith Optics created a pair of ski goggles with sealed thermal lenses and breathable vents. As the goggles quickly gained popularity among skiers, it became apparent that the fog-free technology had potential military applications. As a result, Smith Optics began manufacturing eyewear for the U.S. Military. The current APEL list features two pairs of Smith goggles geared particularly towards extreme climates.
Honewell
The UVEX brand was born in 1956. Its goggles found popularity among Olympic skiers while its glasses established a foothold among equestrians. After acquiring UVEX in 2010, Honeywell was eager to let UVEX continue to pioneer eyewear technology. Under Honeywell, UVEX developed two pairs of glasses and one pair of goggles which meet the meticulous APEL standards.
* Prices accurate at the time of writing
Frequently Asked Questions
Why do soldiers have to wear APEL eyewear?
Eyewear on the APEL list provides an elite level of protection for soldiers. Ocular combat injuries are common yet preventable, especially if soldiers wear APEL eyewear. The U.S. Army puts a lot of research and money into every aspect of their uniform wear, including eyewear, to ensure soldier safety.
Where can I find the current authorized list?
You can find the up-to-date list here. When considering your eyewear purchase, is it important to check the list on official government websites at ".gov" or ".mil" addresses. The products in this article are taken directly from the link provided.
Can I wear other safety-rated eyewear?
During deployment, the short answer is no. APEL eyewear is chosen for its strict adherence to military safety guidelines including ANSI Z87-2010 and MIL-PRF-31013. The 2006 WAMC study states, "We recommend that Soldiers refrain from using [eyewear], unless/until [it's] independently verified by this office." Even eyewear marked "ANSI Z87" or "ANSI Z87-2010" is not necessarily approved for military use. Soldiers must adhere to the Army's most current list.
What if I require prescription eyewear?
Seven pairs of APEL glasses and ten pairs of APEL goggles are compatible with Universal Prescriptions Lens Carriers. UPLCs may be fit with a particular prescription lens and be subsequently attached to APEL eyewear. After these lenses are attached, soldiers will be able to see out of their APEL sunglasses or goggles with their required prescription.
I have eyewear that was approved in the past but is not on the current list. Can I still use it?
There are three instances in which you may use APEL eyewear absent from the current list:
If you received the issued eyewear at Rapid Fielding Initiative (RFI)
If the eyewear was provided by your unit
If you purchased your eyewear from a military clothing store and the eyewear was on the published list at the time of purchase
How long will my eyewear typically last?
Like any other product, the longevity of your APEL eyewear can depend on the quality standards of the manufacturer. The typical life of APEL eyewear, taking regular wear and tear into account, is about five years. This length of time may be shorter or longer depending on the quality of care you put into upkeeping your eyewear and/or the extent of your combat experiences.
What sort of care and maintenance does APEL eyewear require?
As lenses are generally the most vulnerable part of glasses and goggles, their care should be paramount. You should not lay your eyewear face down in order to avoid scratching the lenses. It is also important to know that alcohol-based products, sunscreen, perspiration, hairspray and other chemicals can erode lenses and lens coatings. When cleaning your lenses, use a microfiber cloth. It is recommended that you replace your lenses every six months. Finally, you should store your sunglasses or goggles in a hard case when not in use.
Where can I purchase authorized protective eyewear?
You can purchase APEL eyewear from TacticalGear.com, the eyewear manufacturer's website, or an authorized military clothing store (NOTE: when purchasing APEL eyewear it is important to know that each approved product will always have an APEL sticker or engraving).
What if I'm looking to provide eyewear for a group of soldiers?
Our Strategic Accounts Specialists are well-equipped to handle specialized and/or large volume orders. If you would like to receive a competitive quote, click here. Turnaround time is typically two business days.
Are APEL products limited to military members and government agencies or may civilians purchase them?
Anybody can order APEL eyewear from TacticalGear.com. In fact, we would encourage civilians to consider the products on the APEL list. The U.S. Army designates this eyewear for the protection and safety of their soldiers and it should therefore be a top choice for anyone considering protective eyewear for any task or job.
Does APEL eyewear protect against lasers?
While APEL eyewear's protection capabilities are broad and eyewear on the list does provide some protection against lasers, soldiers specifically in search of laser eyewear protection should refer to the Special Purpose Eyewear Cylindrical System (SPECS) or Ballistic Laser Protective Spectacles (BLPS) for optimal protection.
Who decides what products are on the list?
The APEL list exists under the oversight of the Military Combat Eyewear Protection program (MCEP) which in turn is under the direction of Program Executive Office Soldier (PEO Soldier). PEO Soldier is responsible for testing and implementing field equipment for U.S. Army soldiers. The specific branch of PEO Soldier which selects products for the APEL list is the Project Manager of Soldier Protection and Individual Equipment (PM SPIE).
By what criteria does PM SPIE decide what proucts are on the list?
PM SPIE enforces strict standards for UV protection, chemical resistance, optical clarity, ballistic protection and environmental stability for every APEL product. It also works to stay informed about the latest eyewear and technological developments. When a manufacturer introduces a new set of goggles or glasses, PM SPIE will test to ensure that the new eyewear meets or exceeds MIL-PRF-31013 and ANSI-Z87-2010.
How does the Army ensure the long term quality and effectiveness of APEL products?
PEO Soldier tests samples of approved eyewear every six months to monitor whether or not sunglasses and goggles are still up to par. If they are not, the eyewear may become excluded from the list. It also inspects every brand annually to enforce the Army's stringent production standards.
How often is the list updated?
Soldiers can expect an update to the list about every 12-24 months. The longest duration between updates was the two year period from March 8, 2013 to March 31, 2015. The shortest duration between updates was the six month period from September 22, 2016 to March 21, 2017. The latest iteration of the list dates back to July 2, 2019.
What standards does APEL adhere to?
APEL sunglasses and goggles go through a rigorous testing process and must pass ANSI Z87-2010 and MIL-PRF-31013 before they are added to the official list of authorized eyewear. The former enforces the production standards and labeling of APEL eyewear and the latter determines the thresholds of protection APEL eyewear must provide.
What is ANSI?
ANSI, or the American National Standards Institute, tests a myriad of products and services to ensure proper safety procedures and regulations. ANSI tests include but are not limited to the following: appliances, plumbing products, food service equipment, electric equipment and accessories, drinking water treatments, gas and oil products and many more. Its standards helped guide the creation of APEL.
What is ANSI Z87-2010?
ANSI Z87-2010 calls for a simple distinction between non-impact and impact protectors. Soldiers wear impact protection-rated eyewear labeled "Z87+." Non-impact protection-rated eyewear is labeled "Z87" without the "+" sign.
What is MIL-PRF-31013?
MIL-PRF-31013 is the military standard for protective eyewear used in congruence with ANSI Z87-2010. It states that ballistic eyewear must be able to protect a soldier's eyes against a 4g, 3.8mm projectile traveling at speeds of 650 feet per second (or about 445 mph).
Did you find this article helpful?