Police officers provide protection and security to our nation. We are now in the unique position of discussing methods of keeping them safe during this time of crisis. Every officer must take action to proactively protect themselves during the COVID-19 outbreak.
Protection from Incidental / Surface Contact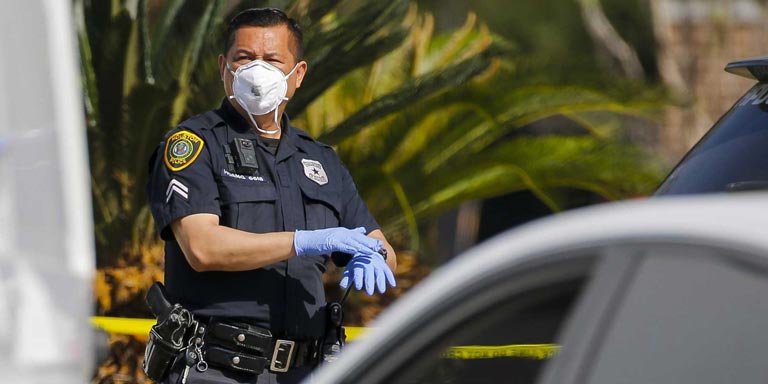 At the start of an officer's shift, they should wipe down the interior of their patrol car with antibacterial wipes. Give special attention to the steering wheel, the switches and buttons on the vehicle, the police radio and every point of contact between the car and the officer. A quick spray of Lysol in the interior will ensure a safer environment for your mobile office during the next eight to twelve hours.
Make sure to have an ample supply of disposable latex gloves, hand sanitizer, and a container of antibacterial wipes. Other personal protective equipment (PPE) such as masks, a disposable gown and eye protection should also be on-board.
Shop Face Coverings | Shop Isolation Gowns | Shop Safety Glasses
Each time an officer reports to their precinct or station, they should take the opportunity to wash their hands with soap and water for at least twenty seconds. Hand sanitizer with greater than 60% alcohol is okay out in the field, but soap and water are more effective.
Any exterior surface a police officer touches can transfer the virus to an officer's hands. If the officer touches their face, the virus may be introduced to their respiratory system.
The use of disposable latex gloves is one answer to this problem. Keep in mind that wearing latex gloves will protect the hands, but the outside of the gloves may then become contaminated. Touching one's face or common areas such as the steering wheel after the gloves are compromised defeats their purpose. Disposable gloves should be removed and properly disposed of at the end of each call, followed by cleaning with hand sanitizer. The use of bottled hand sanitizer or antibacterial wipes might be an easier solution, provided they are used after all public contact and before re-entering the patrol vehicle.
Protection from Direct Contact with Infected Persons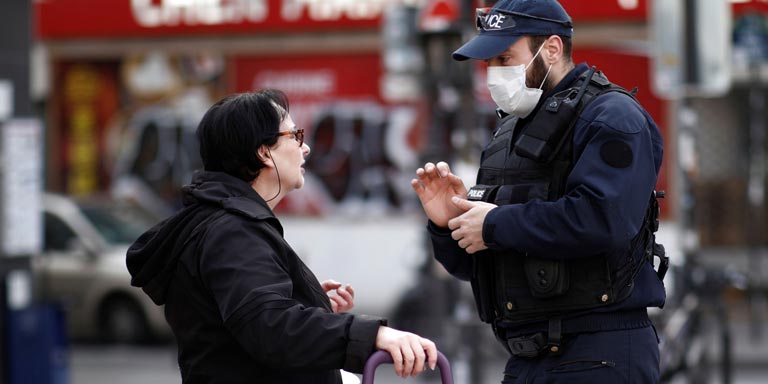 This is the most significant risk to the officer. A cough or sneeze from an infected person poses an immediate threat to the officer. The six-feet-or-more distancing rule should be in effect if an officer is near an infected individual.
An officer usually has a conversational space of three or four feet away when they conduct interviews and gather information. This conversational space must be increased to at least six feet or more. This extra space ensures that the officer does not inhale the liquid particles people expel as they speak. The use of masks is gaining acceptance within departments.
In some departments, dispatchers are asking if anyone living at the residence has had symptoms consistent with the virus. This information is relayed to the responding officers so proper protective steps can be taken. Only officers wearing the suitable level of personal protective equipment should respond to assist in medical calls and transports of suspected COVID-19 patients.
Some departments have dispatchers direct citizens to meet the officer outside of their homes. Doing this allows the officer to maintain a safe distance and keeps the officer out of the confined air space of a residence. The officer doesn't always know if any of the residents are, or have been, symptomatic.
COVID-19 Arrest Procedure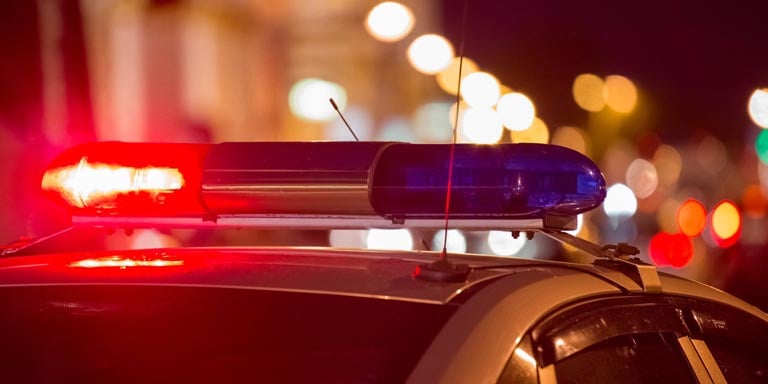 Even in the middle of an epidemic, an officer will face the difficult task of physically arresting a citizen. This close contact will put the officer at greater risk for infection.
Officers anticipating an arrest should put on disposable gloves, an N-95 respirator and eye protection. In cases where the subject is known to be a COVID-19 patient, donning an isolation gown would be appropriate if available. Any arrestee showing signs of illness must not be taken to the police department.
Additional Protective Procedures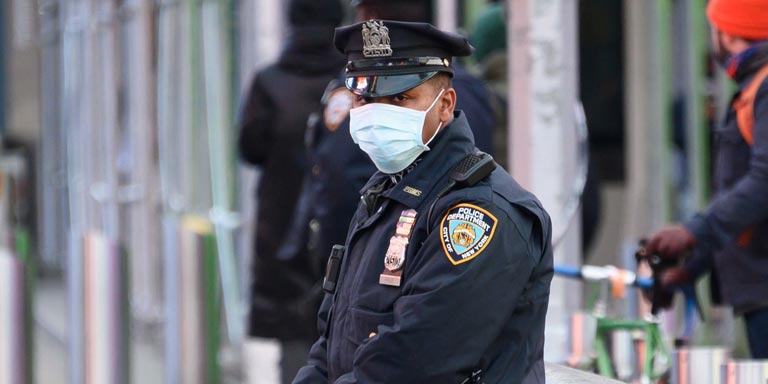 Personal contact between officers and citizens must be reduced to a minimum. In cases that don't require a police response, many reports can be taken over the phone.
Officers should consider stopping cars only when the vehicle threatens public safety. Equipment violations might be better left for another time. Fewer car stops mean fewer public contacts, which means less exposure for the officer.
Many departments across the country are working to reduce the number of arrests. Police are being instructed to issue warnings whenever possible. In the case of more severe infractions, police are issuing a summons or a ticket instead of making an arrest (absent an immediate threat to public safety).
Protecting the Officer's Family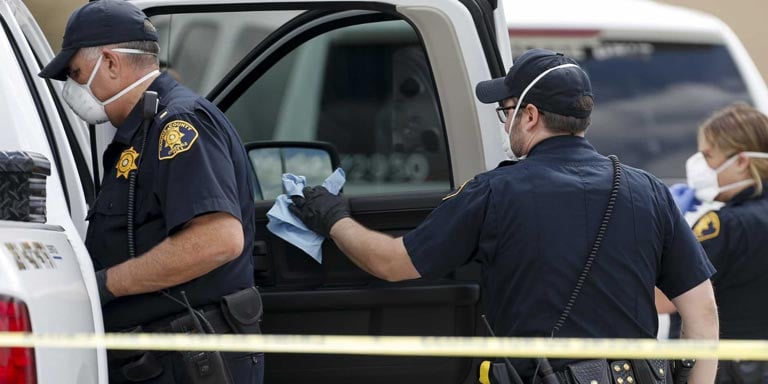 Protecting one's family is on the mind of every officer as they put themselves at risk. A proper routine should be developed and followed to ensure family safety.
At the end of each shift, remove and place uniforms in a sealed plastic bag. Use Lysol to spray down leather gear, boots and anything else you plan on taking into your home. If possible, change out of uniform and shower at the department. If not, shower as soon as you come home, washing thoroughly with soap from head to toe.
Wipe down your personal vehicle with antibacterial wipes. Don't forget ancillary items used on the job such as sunglasses and cell phones. Only bring the items you need to secure into your home. Things such as a patrol bag should be secured in the trunk of your vehicle if possible.
General Officer Well-being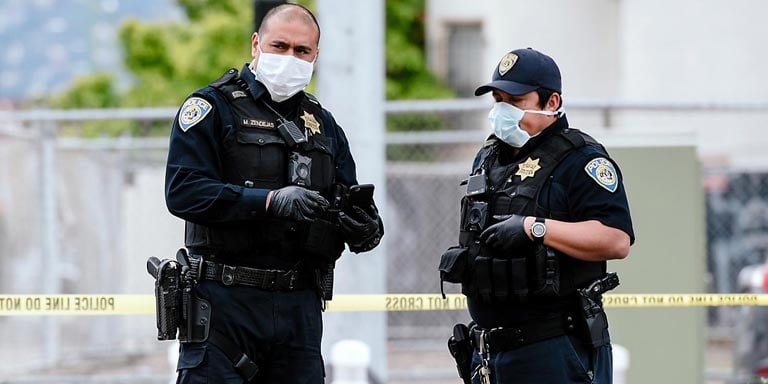 Police officers should strive to maintain good health. Get sufficient rest, eat a proper healthy diet, stay hydrated and maintain a regular exercise program. Officers should avoid tobacco products. They should also enjoy leisure activities at home to help reduce added stress and limit the amount of time they spend watching crisis news coverage.
If an officer should develop symptoms or become sick, they should stay at home, exercising social distancing from other family members. Always consult and follow the official recommendations provided by your particular agency regarding COVID-19 virus response and officer protection.
Police officers are our last line of defense, and we can't afford to have them go down to this illness. Every officer must take action to proactively protect themselves, as they are our protectors. Stay safe!
Did you find this article helpful?