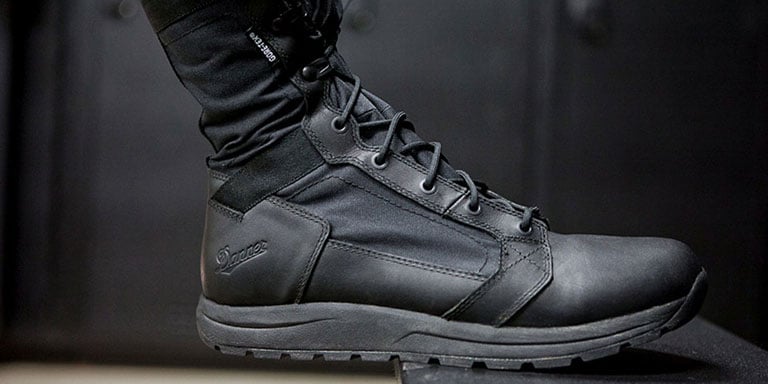 Law enforcement officers never know what their shift will bring, but they do know they need footwear that handles just about anything. The boots you lace up affect your speed, agility, accuracy and ultimate performance. Finding the right pair for your shift or special detail can make all the difference — we'll cover types, features, regulation and fit to ensure your duty footwear won't hold you back.
Police Footwear Regulations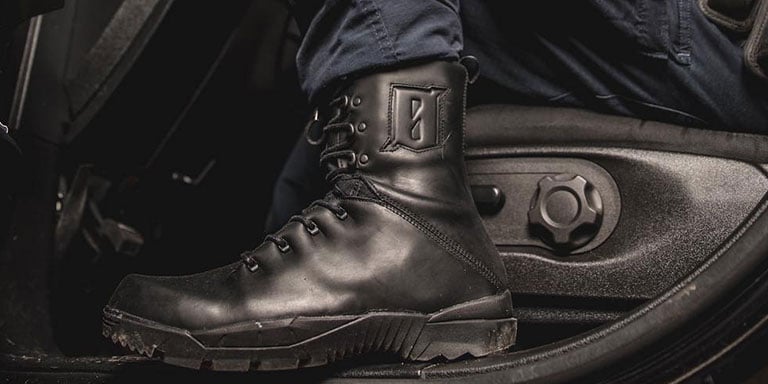 Before doing any shopping, check your department's policy and procedure manual. You won't be very happy when your sergeant says, "Those don't meet policy," about your new favorite boots.
Most departments simply require that duty footwear be black with no second color visible, in a low, mid or high cut. However, others can be strict. While this has decreased in popularity in the past decade, some departments still require a full leather boot, or one with a polishable toe. Make sure you are clear on your department's rules before investing in duty footwear.
Types of Police Footwear
With thousands of duty footwear styles on the market, it can be difficult to discern what will function well, or what is even allowed, for police work. While your department's policies and procedures may affect or limit your choices, you'll likely be able to choose from several categories.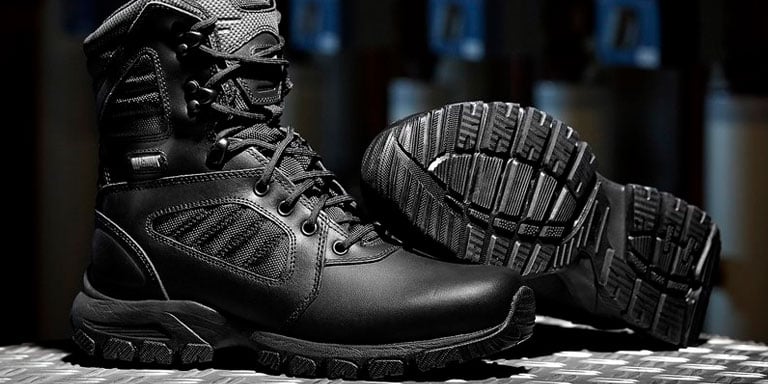 Police Boots
Many officers opt for the support and protection of a duty boot. A boot offers the comfort and stability needed while on patrol, while also providing ankle support if running, climbing or kneeling is required.
Patrol boots typically have a shaft of about 8 inches tall. When laced, they protect your lower legs and can prevent ankles from rolling during physical assertion. If you would prefer more flexibility, duty boots also come in mid heights, with a shaft usually between 5-6 inches. Mid boots offer substantial support while cutting off some weight from your footwear.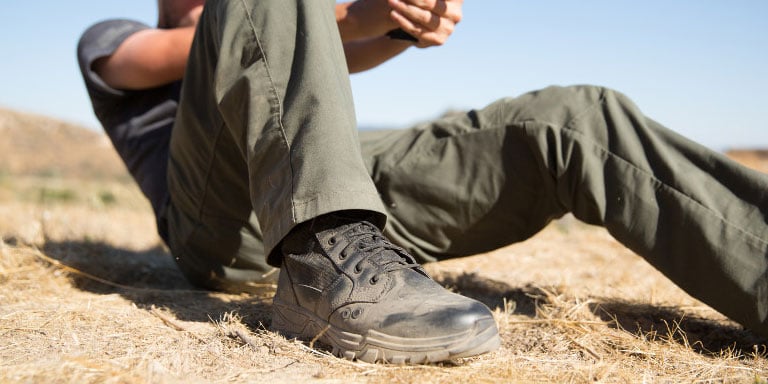 In the past, duty boots had a reputation for being heavy and clunky — not ideal for a job that requires you to be quick on your feet. This is no longer the case. In the last hundred years, footwear innovations, such as synthetic materials and slimmer silhouettes, have cut down on boot weight considerably. Most modern duty boots weigh in under 25 ounces per boot, and often feel like a pair of running shoes.
Police Shoes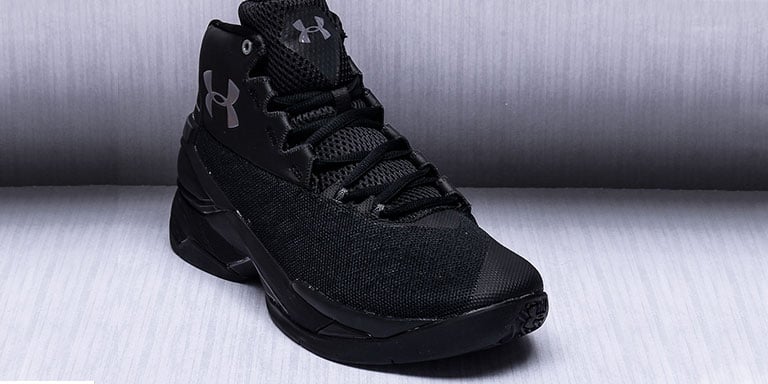 Police shoes provide no additional protection, support or insulation above the foot, but they are lighter and more comfortable than most boots. As a result, an officer who does a lot of foot patrol may prefer police shoes over boots. Like police boots, newer police shoes may use synthetic materials and innovative technology to reduce the weight of the shoe while providing better insulation.
Special Operations Footwear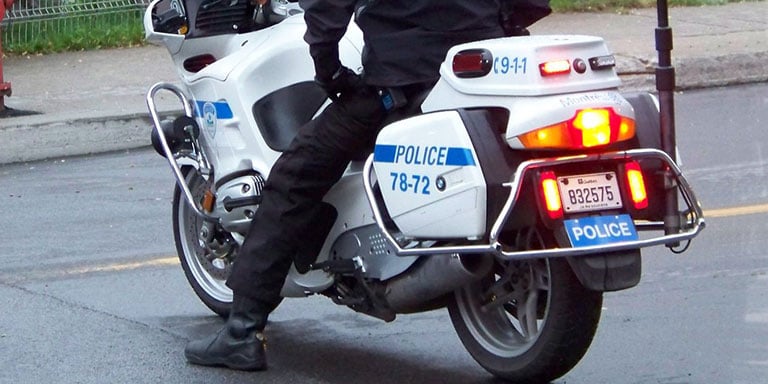 There are some special details or assignments where the officer needs a specific type of boot or shoe.
Motorcycle units: These units typically require a boot with a longer shaft, up to 17 inches or more. This feature provides additional protection for the officer's legs while also insulating the leg from the heat of the motorcycle's engine.
Bicycle Patrol: This detail requires officers to get a shoe with a stiffer sole to improve efficiency while pedaling.
Honor Guard: Honor Guard and other ceremonial details usually have specific footwear requirements. You'll want to check with your department policy before purchasing.
Walking a Beat: While not required, you'll certainly want to wear a lighter, more flexible shoe with a shock-absorbing sole and insole in order to get through a shift comfortably.
Police Dress Shoes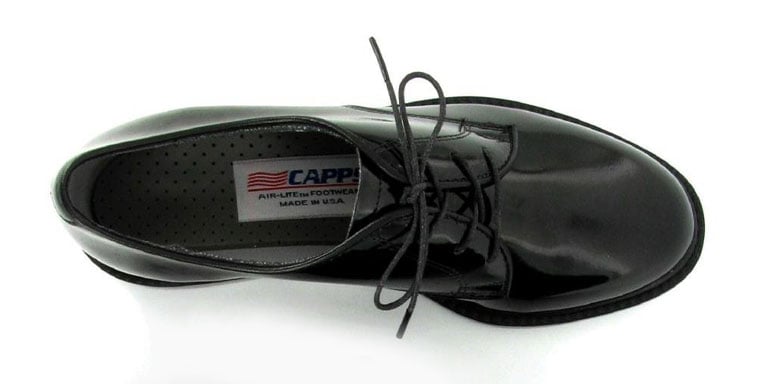 There are times when an officer needs a highly polished, traditional dress shoe. The scuffed tactical boot probably won't be appreciated during a promotion ceremony or protection detail for a visiting dignitary. For those times, a police Oxford is essential. They come in a polishable matte or a high-gloss finish, the latter offering the benefit of having a high-shine appearance without the old-fashioned elbow grease needed to make leather shine.
Police Training Shoes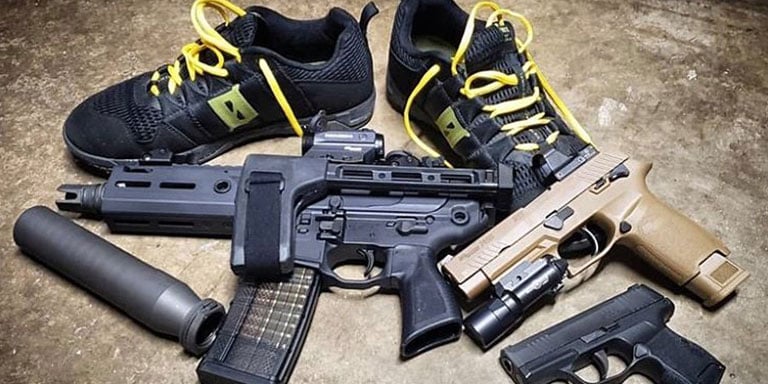 It is also important to consider what type of boots or shoes you will be wearing while working out. Athletic shoes or cross-trainers can be used for many types of work-outs, including aerobic training. If your training includes a martial art or defensive combat system like Krav Maga, you may also want to consider special wrestling shoes or boots for training on mats.
Police Footwear Components
There are three main components of any footwear: the upper, midsole and outsole. Each component is unique and serves an important purpose in a boot's construction.
Upper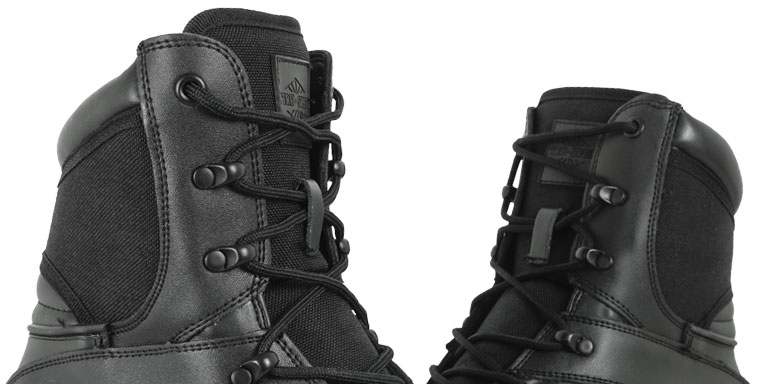 A boot's upper is the portion that wraps around your foot and (sometimes) up to and above your ankle. Uppers are made of many materials based on your service needs. Police footwear is typically a combination of two or more of the following materials in order to increase durability while reducing weight.
Flesh-out leather: Flesh-out leather is just what its name implies: the flesh-facing portion of the leather faces outward. This kind of leather is known for its durability.
Suede: Also made from the flesh-facing portion of a hide, suede is known for its fuzzy texture. It is softer and more flexible than top grain leather but not as durable. Suede's flexibility means it is light, making it prime material for lightweight boots.
Genuine leather: An item made of genuine leather is simply made of animal leather (as opposed to synthetic leather). Genuine leather is one of the poorest grades of leather, often produced from leather scraps or leftovers.
Synthetic leather: This leather is not made from animal hide, but a polyester base with a polyurethane coating. It is more cost-effective and lightweight, but not as durable.
Cordura: Cordora is a fabric made of nylon and blended with cotton. Highly durable, it is resistant to scuffs and tearing. These properties make it an excellent choice of upper material.
Waterproof membranes: Waterproof membranes let water drain and keep water out. GORE-TEX is perhaps the best waterproof membrane for its flawless combination of waterproofing and breathability. GORE-TEX police boots offer comfortable, consistent levels of moisture protection.
Midsole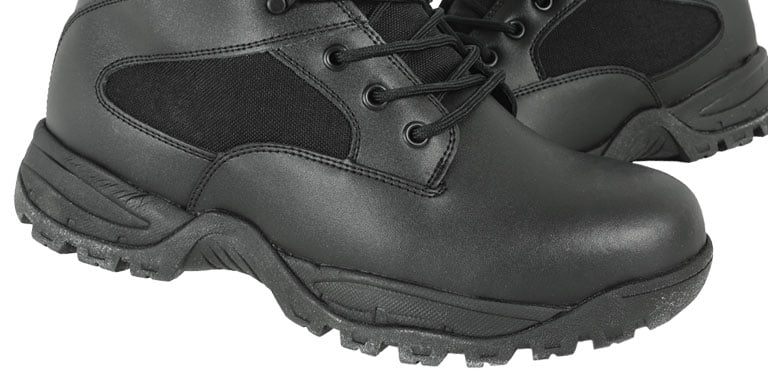 The midsole is the portion of the boot right below the removable insole. A midsole's material directly affects a boot's comfort level. Here are some common midsole materials.
Ethylene Vinyl Acetate (EVA) Cushioning: The most common midsole material, EVA, is comfortable and compression-resistant. Though EVA insoles may lose their form over time, an after-market insole can fix that. Boots with EVA midsoles help ease foot pain.
Polyurethane (PU): Polyurethane midsoles are heavier than EVA, so they keep their form over a longer period. As a result, they tend to be pricier than EVA midsoles. Consider PU midsoles to avoid wear and tear in your boots.
Shanks: Shanks are steel plates embedded in a boot's midsole. They provide protection against nails or jagged metal that may pierce a boot's sole and they provide balance when carrying heavy gear.
Outsole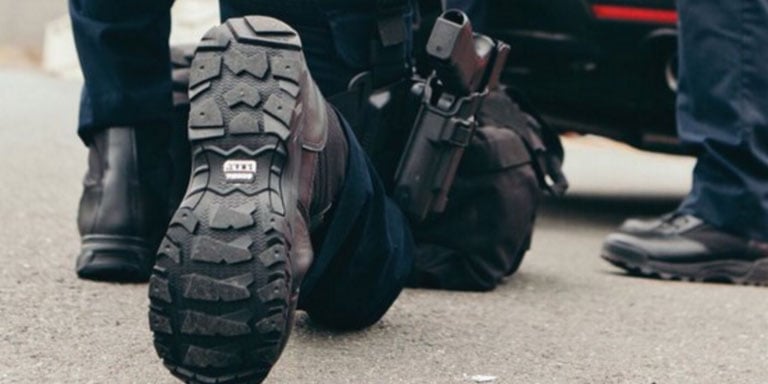 A boot's outsole makes direct contact with the ground. Outsoles offer protection between your feet and potential hazards you may step on while providing support, traction and comfort, too. Here are some outsole characteristics.
Rubber: Rubber is a common outsole material. One of the most popular rubber blends is Vibram. Grippy and flexible, Vibram holds its form and offers unparalleled traction on uneven surfaces.
Polyurethane (PU): Polyurethane is mostly used in midsoles, but some boots do have PU outsoles. Polyurethane's wear resistance and waterproof properties make it an excellent choice of outsole material. Choose boots with PU outsoles for extra protection underfoot.
Lug (tread) Pattern: Lug patterns are deep grooves in the sole of your boots. Police footwear lug patterns are engineered with duty in mind: they are wide enough to clear themselves of mud and they give you grip on slippery surfaces. They accommodate climbing, rucking and running in sand. Consider boots with wide lugs for extra traction and balance.
Police Footwear Features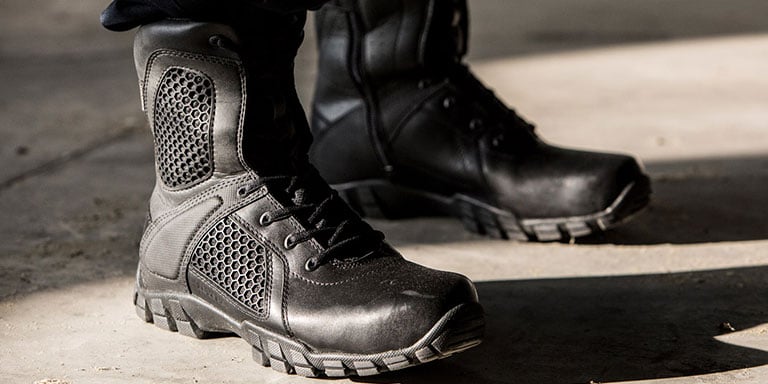 You may also want to consider what special features you'll want in your footwear.
Side Zip Police Footwear: Side-zip boots allow efficiency getting in and out of boots quickly. This can be necessary when you need to gear up and get on the job at a moment's notice.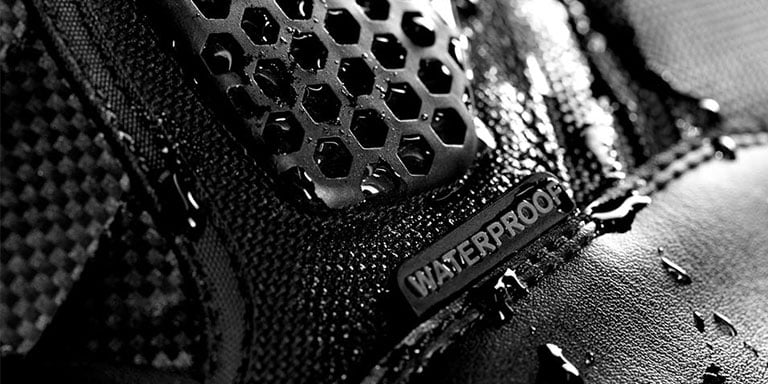 Waterproof Police Footwear: This can be a critical feature, especially if you'll be out of your squad car on a rainy day. Waterproof boots are designed to let out sweat and keep outside water away from your feet.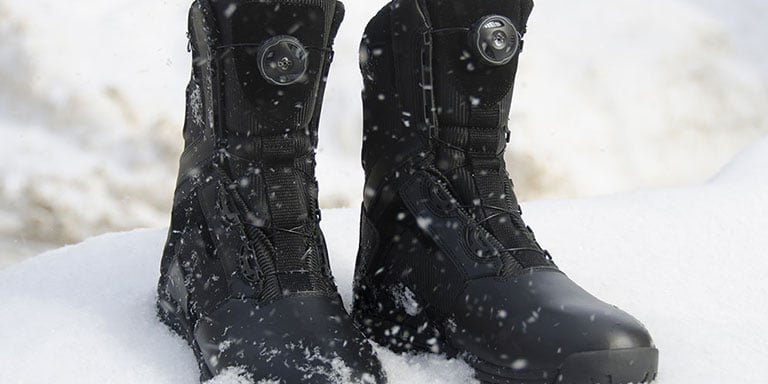 Insulated Police Boots: These boots are designed to keep the cold out. Many insulated boots are lined with Thinsulate, a synthetic fiber blend that blocks out cold air molecules. Measured in grams, Thinsulate ranges from 200G to 1000G — the higher the volume, the more insulated the boot.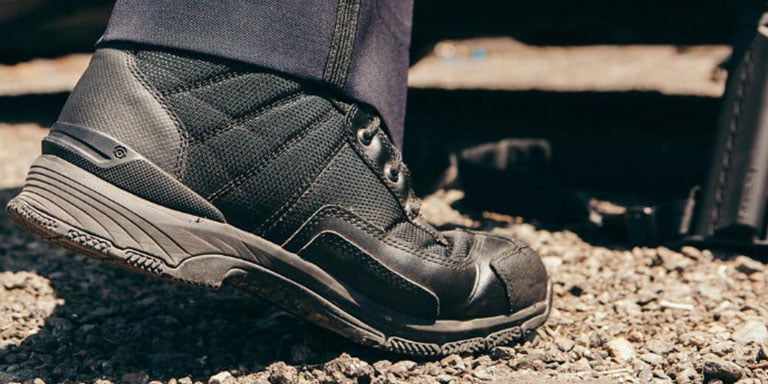 Safety Toe Police Footwear: Some assignments or operations, such as working in a jail or in a crowd-control assignment, may require additional toe protection. Boots and shoes can include traditional steel toes or synthetic toe boxes built into the upper. Remember that the toe box in safety toe boots and shoes takes up space. This will affect the fit and should be considered when choosing your size.
Police Footwear Fit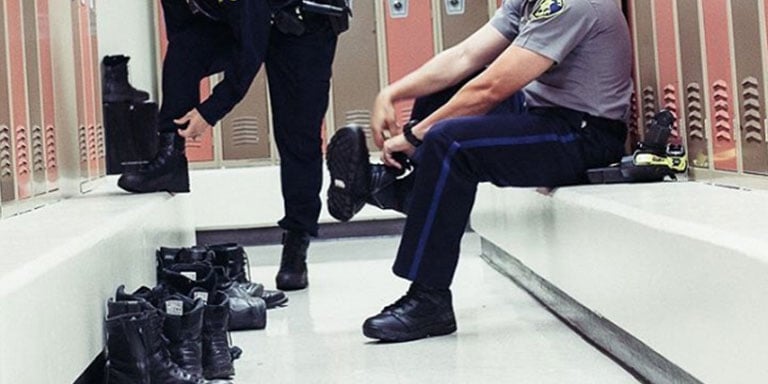 Once you've chosen the appropriate style of boot or shoe, fit is the most important part of being happy with your new footwear. The following points will help you understand foot size, width, and everything else that goes into making sure your boots or shoes fit well.
The best way to determine your foot size is by using a Brannock device (an oblong, ovular tool with sliders to measure the length, width and arch of your foot). Use one to find the exact measurements of your feet, which will be useful when choosing your size. Size is determined by the length of your foot and is different for men and women. Boots and shoes come in various widths, from "extra narrow" (B) to "triple wide" ("EEE"). You can usually find conversion charts to help determine the correct size and width from the measurements off the Brannock device.
Give your boots and shoes time to break in. They will typically be very stiff when you first put them on. The materials need to move and flex naturally on your feet throughout the day. The longer you wear them, the better your boots and shoes will fit and feel in the long run.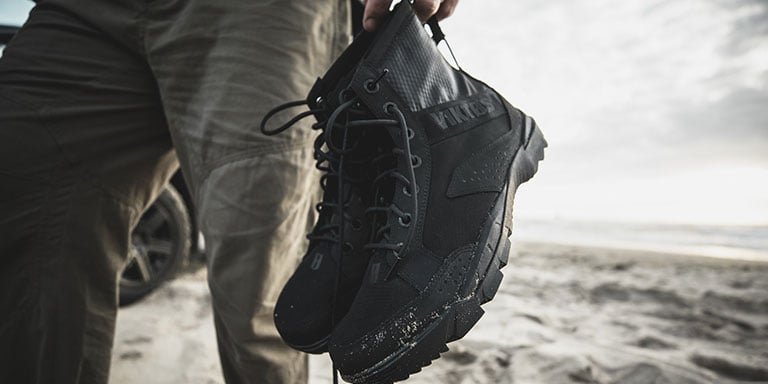 It is important to understand that shoe sizes can vary greatly by brand and style. When you find a brand you like, stick with them. You'll become accustomed to their sizes and have a better sense of what you'll need when choosing your next pair.
Your boots or shoes should be snug, but never uncomfortable. They shouldn't be too tight or too loose, but somewhere in the middle. The optimal fit is when your boots or shoes don't move on your feet very much, but aren't causing you pain. Remember that your socks will affect this fit, as well. Socks vary a great deal in thickness and materials used, so when you try on your boots or shoes for the first time, you should wear the same socks that you plan to wear consistently.
Try on the boots or shoes and see if you can curl your toes inside them. If you can, you have probably picked the right size. If it's difficult to curl your toes, you should consider moving up to the next available size. Also remember that your heels should not be sliding inside the boots or shoes — you'll end up with blisters if they do. Walk around to make sure your heel is not rubbing the insole as you walk.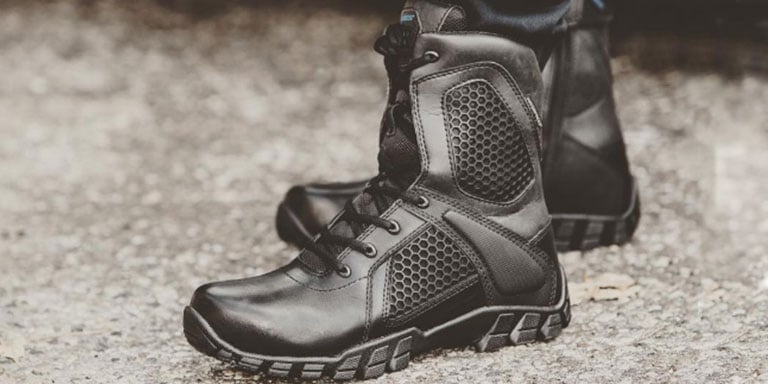 Laces do more than just keep your boots or shoes on your feet. They can provide much-needed tautness or slack as your feet swell, so try tightening or loosening your laces to improve your comfort.
Try aftermarket insoles to improve your comfort. These insoles go the extra mile with their personalized fit and comfort. They might also add the right touch of tightness to loose boots or shoes.
In conclusion, your boots or shoes provide a figurative (and literal) base for your comfort on the job. Invest in them wisely and you'll have much happier feet! Skimp on them and you'll probably be miserable and grumpy.
Did you find this article helpful?