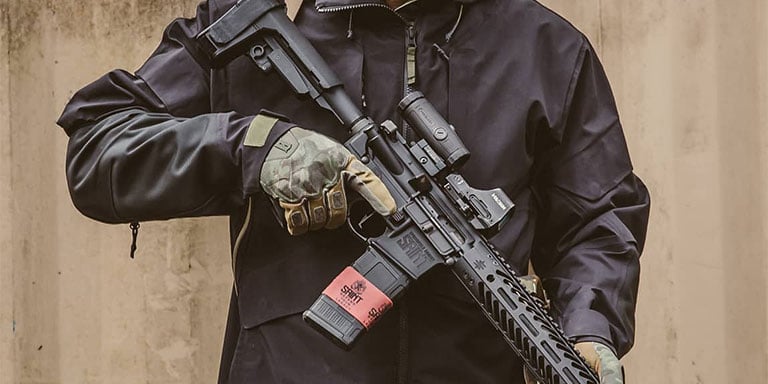 Duty assignments take place year-round in any weather, despite any conditions. When it's cold out you need to keep warm, but you also need access to the equipment your mission necessitates. Tactical outerwear is the answer — tough, rugged coats and jackets that will keep you comfortable without sacrificing mobility.
In this guide, we detail everything you need to know about choosing the right tactical outerwear. We cover tactical outerwear insulation materials, types of tactical outerwear, key features to consider and more to ensure you get the most bang for your buck.
Factors to Consider when Choosing Tactical Outerwear
Like all tactical equipment, it's crucial to think about what you need your outerwear to do before you buy. There are plenty of different factors to consider, but we'll focus on four: climate, activity level, mobility and durability.
Climate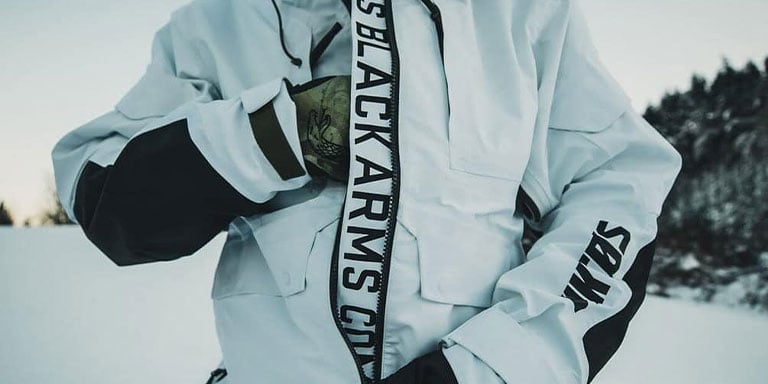 This may seem obvious, but it can't be overstated: the outerwear you choose will depend largely on the climate around you. If it's only moderately cold out, you may only need a fleece or a lightweight jacket. If temperatures get well below freezing, conventional wisdom says you may have to throw on something heavier. Be warned, though, that the heavier your outerwear, the lower your mobility.
It's also important to consider how often the climate around you changes. If a storm moves in, you'll need an outer shell ready to keep you dry. If it starts off freezing cold out but the temperature gets warmer throughout the day, you may need to switch from a heavy coat to a lighter jacket. Don't just dress for the weather — prepare for how the weather changes by keeping multiple garments on hand. For more on utilizing the right outerwear for any conditions, check out our guide to layering for fall and winter weather.
Activity Level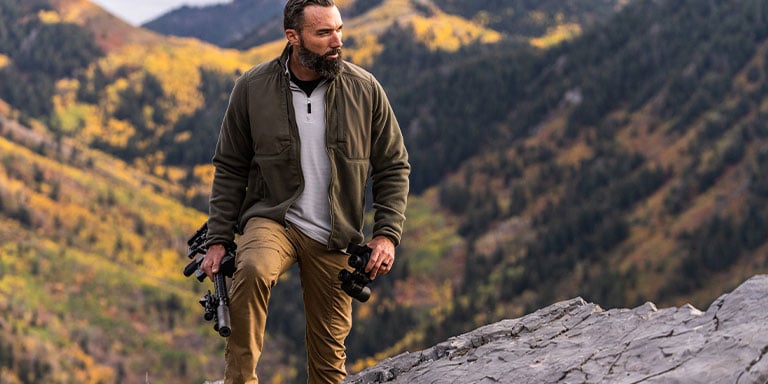 Activity level is perhaps the most overlooked aspect of choosing tactical outerwear. Your body produces its own heat, and as you move around and stay active, that amount of heat increases. If you start off with a heavyweight, non-breathable coat and go for a jog, you'll find yourself sweating heavily and overheating very quickly.
There's an old adage among outdoorsmen that goes, "Be bold — start cold." This essentially means initially starting off with outerwear that doesn't quite provide enough warmth, then allowing the body heat you put off to pick up the slack over time. You may start off with your teeth chattering, but by the time you get going, you'll feel just fine.
Mobility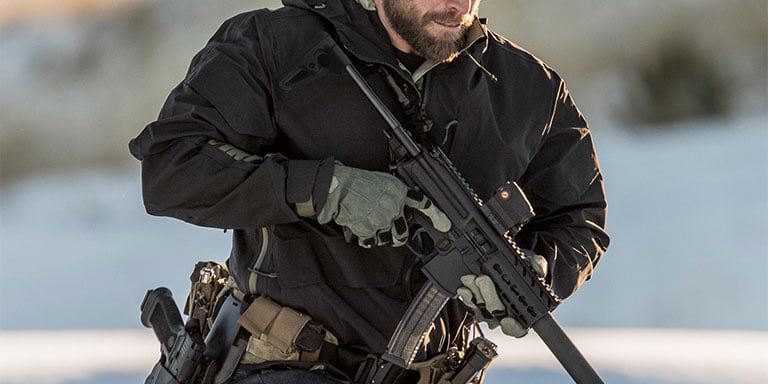 Staying warm is good, but ensuring your outerwear doesn't slow you down is vital. You need to be able to move fluidly and react quickly, and if your jacket is getting in the way, it's probably not the right one. Good tactical outerwear fits naturally and allows you to walk and run uninhibited. It should also allow you to reach for and use all your gear just as smoothly and quickly as you would when you're not wearing it.
Durability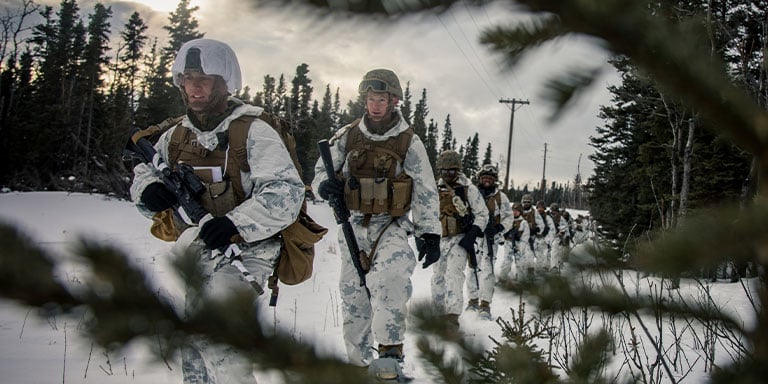 Military, law enforcement and other tactical jobs are tough on clothing. Your outerwear should be just as tough, ready to handle day after day in the field without malfunctioning. Polyester, cotton duck, nylon and microfiber are resilient materials, and outerwear made from them tends to offer plenty of durability and to hold up in the long run.
Tactical Outerwear Insulation Types
Insulation materials are one of the most important aspects of tactical outerwear. Their properties are what holds your body heat in and keeps cold air out. There are a few different types of insulation, and they each work a little differently from each other. The type you'll need depends on how the materials themselves interact with the kind of climate you're in and the activity level at which you expect to function.
Fleece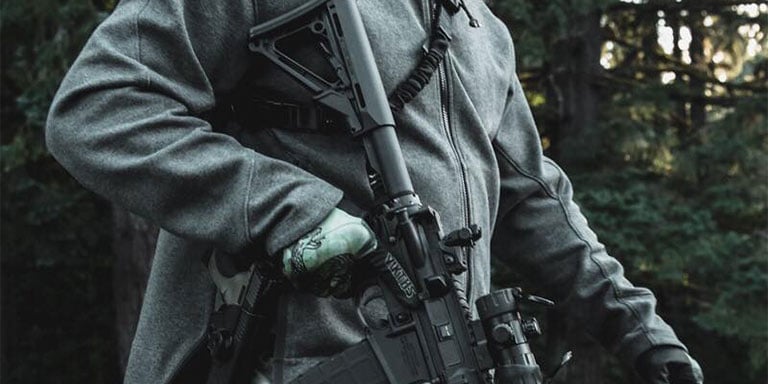 Fleece is perhaps the most common and best all-around insulation material. It's very soft and comfortable, it wicks moisture remarkably well, and it dries quickly, which comes in handy during inclimate weather. Fleece's insulating properties continue to work when it gets wet. Tactical outerwear made from fleece tends to be relatively inexpensive, too, meaning it's accessible on just about any budget.
Fleece jackets are very breathable, which can be a good thing or a bad thing: good for some extra ventilation to prevent overheating, but bad when it's both cold and windy. For this reason, fleeces are often worn as a mid layer or incorporated into other garment types like softshells. Shop Fleeces & Liners
Synthetic Insulation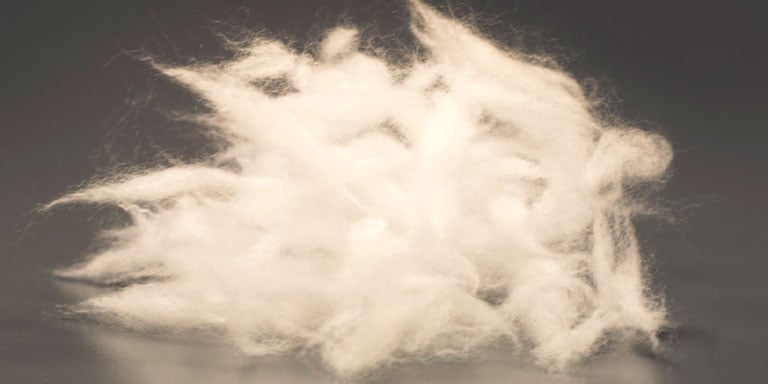 Synthetic insulation goes by many different, proprietary brand names, but they're all essentially the same thing: compressible, man-made fibers inside of a jacket that help to retain body heat. The insulation level of synthetic materials is measured in grams; a higher measurement means a thicker, warmer jacket.
One of the biggest pros of synthetic insulation is that, unlike down insulation, it maintains its insulation abilities even when it gets wet (more on down insulation in a bit). It dries fast, and it's typically less expensive than other types of insulation.
On the other hand, synthetic insulation can be heavy, meaning it's not as packable or compressible. It also tends to be less durable than other kinds of insulation materials, so it may not hold up quite as long over time.
Down Insulation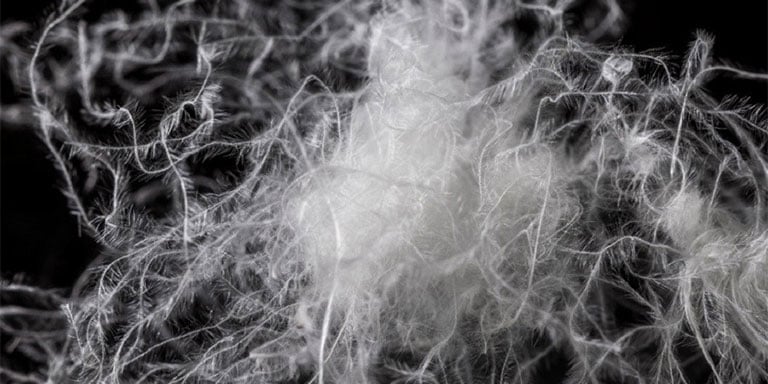 The kind of material found in so-called "puffy jackets," down is made from geese and duck feathers. It's a fantastic insulator; it's light, and it offers the most warmth for the least weight and bulk. It's also extraordinarily compressible, meaning outerwear with down insulation can be folded and packed very easily.
Down's insulating ability is measured in fill power, which is the volume (in cubic inches) of one ounce of down material. Higher fill power means more insulating efficiency. Higher fill power also means more compressibility; between two down jackets of equal warmth, the one with the higher fill power is more compressible (and therefore, more storable).
For its many perks, though, down is not without its drawbacks. It's infamously adverse to moisture — when down gets wet, it loses its insulating properties, making it a poor choice for wet environments or any time there's rain or snow in the forecast.
Types of Tactical Outerwear
Certain styles of tactical outerwear are created with specific purposes in mind. The materials, features and even the colorways of these coats and jackets are tailored to certain weather conditions, activities and careers. Here are some common types of tactical outerwear and what makes each one unique from the rest.
Duty Jackets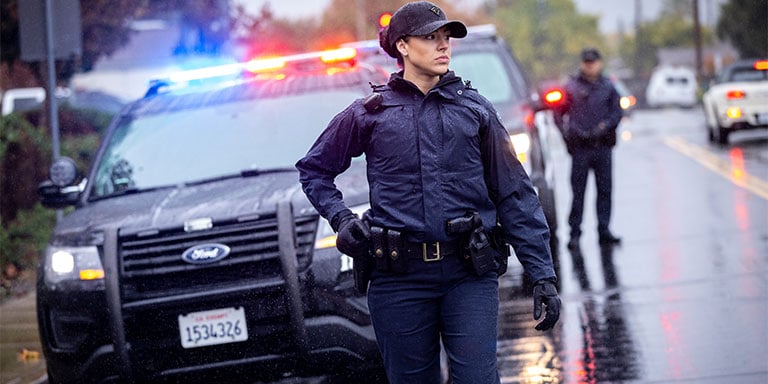 Law enforcement officers demand a lot from their gear, and the tactical outerwear they use on the job is no exception. Duty jackets are typically made from an outer material like nylon or polyester to shield wearers from wind, rain and snow. Police usually have choices as far as insulation materials go — quilted synthetic if they're expecting precipitation, and fleece if they need something with some breathability.
Duty jackets are made with a number of features that aid in efficiency and duty-related tasks. Arguably the most important of those features is access to a sidearm or duty belt; jackets feature side zip panels to create an opening to grab vital equipment with ease. Other bells and whistles include ID panels for police patches and badges, mic loops to accommodate radio microphones and document pockets to store paperwork.
Many duty jackets are engineered with bloodborne pathogen-resistant materials to stave off deadly diseases with which officers may come into contact. The color of the jacket matters as well, with options like LAPD navy, black, tan and OD green available (depending on department requirements). Shop Duty Jackets
The Extended Cold Weather Clothing System (ECWCS)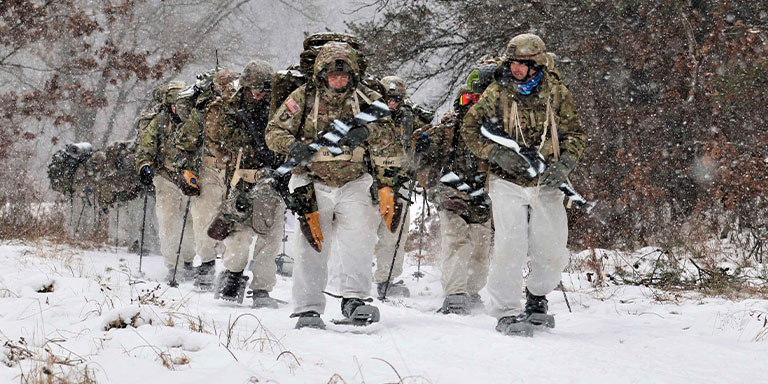 The Extended Cold Weather Clothing System (or ECWCS) is a layer-based set of garments worn by the United States Army. There are seven levels of apparel, and each level is heavier and provides more warmth than the last. The system includes base layers, insulating middle layers, protective outer shells and heavy-duty parkas to protect against Arctic-level temperatures. Soldiers can mix and match layers as needed depending upon how the weather in the field changes throughout the day.
The materials used throughout the system were chosen to offer solutions to a range of cold-weather needs. Level 3 is a breathable, insulating quarter-zip fleece suited for mid to high-level activity. Levels 4 and 5 are nylon jackets which protect soldiers from wind and rain. Level 6 is made from GORE-TEX Paclite fabric for the very best in waterproofing. Level 7 is constructed with PrimaLoft synthetic insulation and, when layered with other ECWCS garments, provides top-tier defense on even the coldest assignments.
The Extended Cold Weather Clothing System's versatility is unmatched by any other layer-based apparel system. We did a deep dive into the intricacies of ECWCS in another article; be sure to give it a read if you're looking for a set of clothing that can handle anything that comes its way. Shop ECWCS
Covert & CCW Jackets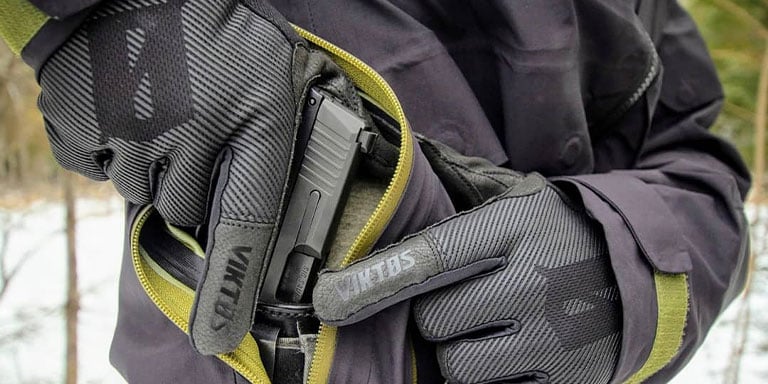 If you're looking to carry a weapon and don't want to draw any attention to yourself, covert & CCW jackets are the best option available. Maneuverability is key with this style of coat, which is why they're often built with cotton duck. Many work jackets are made from cotton duck because it provides a great balance of warmth and flexibility, and covert tactical jackets implement the same material for the same purpose. Polyester is another popular outer material for CCW. Like duty jackets, concealed carry jackets are usually made from either fleece or synthetic insulation, depending on the user's preference.
Also like duty jackets, covert & CCW jackets use sidearm access zippers to help the wearer reach their gun on their hip as quickly as possible. Some styles feature built-in MOLLE platforms for holster attachment, and virtually all styles have plenty of secure pockets that can accommodate firearms and extra magazines. Out of all the CCW clothing out there, concealed carry jackets create the least amount of printing, allowing for completely inconspicuous carry. Shop Covert & CCW Jackets
Fleeces and Liners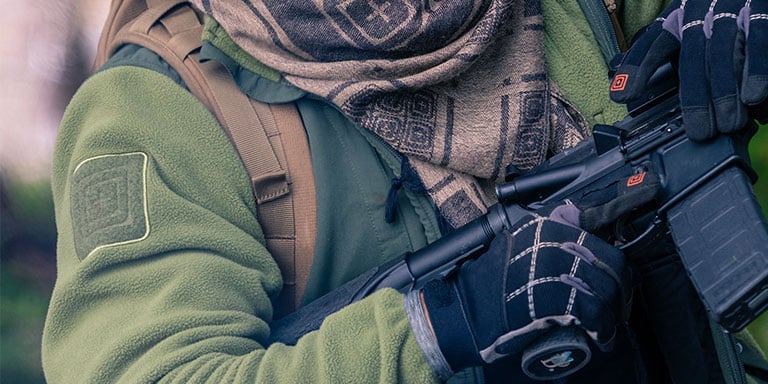 We've covered the benefits of fleece as an insulating material. Fleece's other upside is its versatility: you can wear a fleece by itself in mild weather, or use it as a layer with a soft shell or duty jacket when the weather turns cold.
Tactical fleeces offer plenty of pockets for gear (either zippered for secure storage, or open for fast, convenient access). Most styles feature passthrough spaces to allow the wearer to get to their firearm. Nylon and ripstop fabrics are often added to increase durability in the overall design as well. It's always good to have a fleece on you; they offer coverage and convenience in just about any situation. Shop Fleeces and Liners
Soft Shells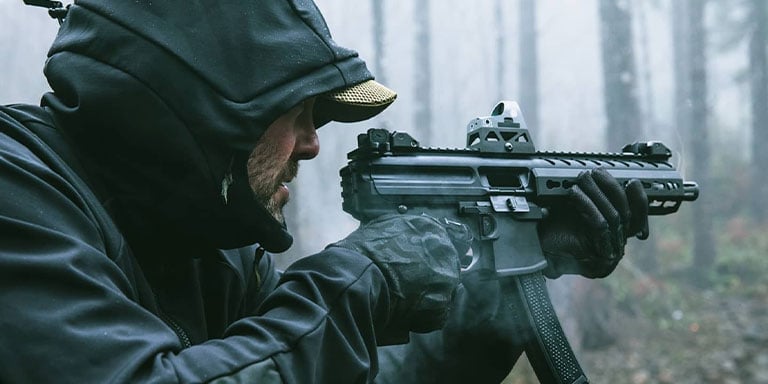 Soft shells are made to provide protection from wind, rain and snow. The overwhelming majority of them are made from polyester or nylon, materials that precipitation rolls right off of and that wind can't break through. Like other tactical outerwear styles, soft shells are engineered with either fleece or synthetic insulation (though most use the more breathable fleece, as soft shells are usually worn with additional layers).
Tactical soft shells come with many of the same features as CCW and duty jackets: they're built to offer quick access to a belt or firearm, they come with a myriad of pockets to hold and store essential gear, and they come in common uniform colors like black, navy blue, tan and OD green. Shop Soft Shells
Tactical Jacket Features
After you've considered the external factors, insulating materials and style of tactical outerwear you need, the last thing to pick is the features you want your jacket to have. There are many to choose from, and you should pick the ones that will help you perform your duties efficiently and effectively.
CCW Access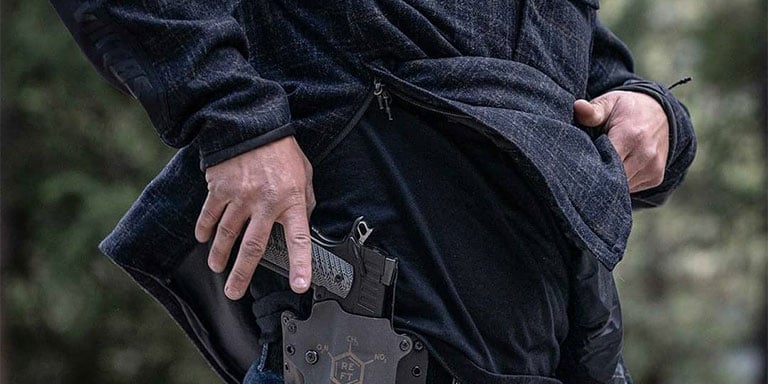 Many individuals who purchase a tactical jacket do so with the intention of carrying a concealed weapon. There are two ways to do that: to keep the handgun holstered on your hip, and to store the handgun in a secure pocket in the jacket itself.
If you're carrying your gun in a holster, look for a jacket with side panel zippers. These flaps essentially open up and expose the holster and weapon, saving you the trouble of having to lift the jacket's waistband up with one hand and reach for the gun with the other.
If you're carrying your gun in the pocket of the jacket, you have a few further options available to you: the pocket itself can either be inside the jacket (usually up around the chest) or outside the jacket (typically at the waist). The pockets may either be zippered or open. Zippered pockets offer more secure storage but take longer to get into; open pockets provide swift access, but your gun could fall out depending on how you're moving.
Water Resistance and Waterproofing
Weather protection is one of the most important aspects of tactical outerwear. It's easy to get water resistance and waterproofing confused, though, and choosing the wrong option may result in either becoming soaking wet or significantly overheating yourself.
Water-resistant (or water-repellent) outerwear materials use either a coating or their natural properties to repel moisture away rather than absorbing it. They can only stand up to so much precipitation, though, before you start to get oversaturated.
Waterproof jackets, on the other hand, are made out of non-breathable materials (like nylon) or coatings (like GORE-TEX) that can stop water in its tracks (though you still need to cover openings at the wrist, neck and waist to stay dry). While waterproof styles offer the best weather protection, it's important to note that they're not good for high-intensity activity — their lack of breathability can result in sweating or overheating very quickly.
Detachable Hood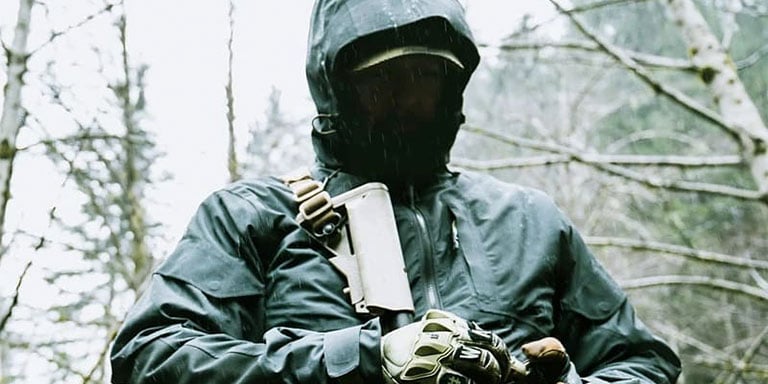 A hood is a great addition to a tactical jacket. It offers extra protection from the elements and additional insulation from the cold. There may be times, though, when a hood could potentially get in the way; it can decrease peripheral vision and cause blind spots at crucial times.
Luckily, on a lot of tactical coats and jackets, the hood can be removed and packed away at the user's discretion. Typically this is done by way of hook and loop fields or a zipper. Some jackets even have a slot built into the collar in which to tuck the hood away.
Wrist Cuff Closures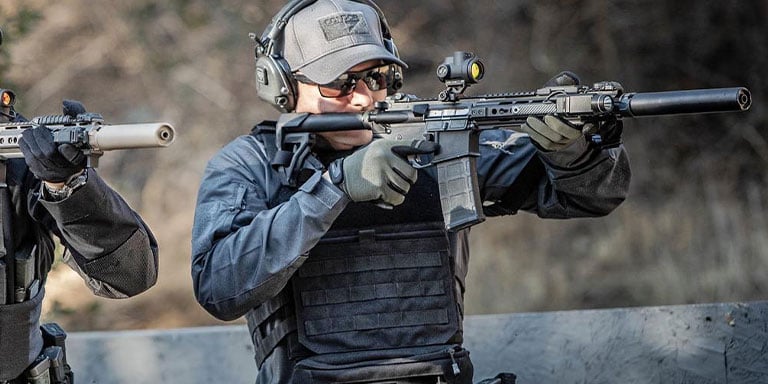 Any opening in a jacket is a prime spot for moisture or debris to sneak in and for body heat to seep out. Outerwear with wrist cuff closures help to avoid these issues. Usually these closures seel up with hook and loop fields, or they're naturally tight and form-fitting because they're made from elastic.
YKK Zipper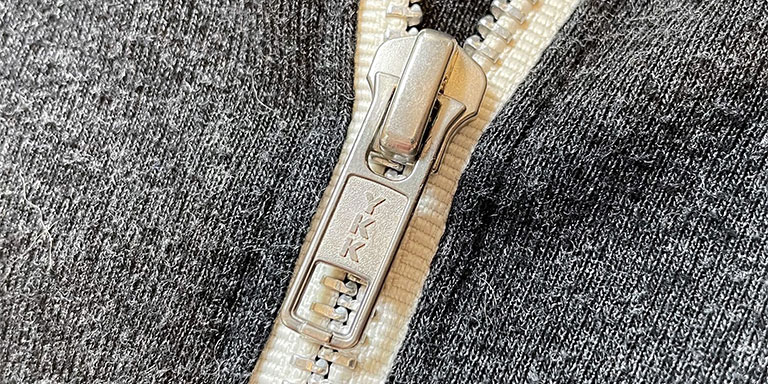 A single broken zipper can render an entire jacket completely unusable. That's why it's best to go with the best, and YKK has been the best for decades. The company produces about half the world's zippers, and for good reason: they're completely unbeatable in terms of reliability. If you want to avoid a stuck or broken zipper on your tactical jacket, look for the famous YKK logo.
ID Panels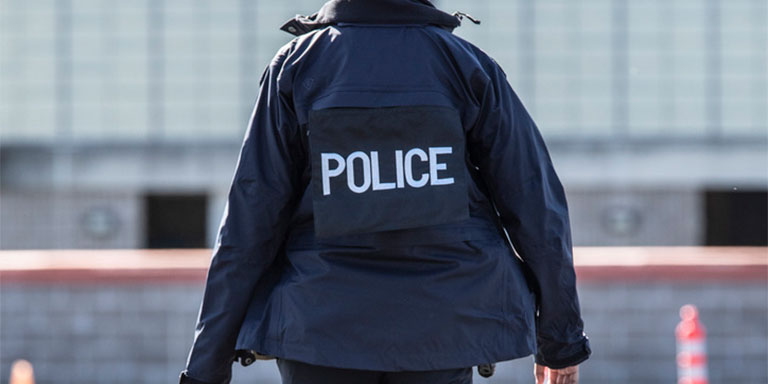 Identification is an incredibly important aspect of police work. If an officer is interacting with the public, it's important for them to establish their law enforcement status. Putting on a jacket covers up the badges and patches on a duty uniform, so it's important for police outerwear to feature spots for those insignia. Duty jackets (and other tactical outerwear styles) do just that — they feature ID panels and loop fields to which LEOs can attach their identification patches and badges.
Choosing the right outerwear is no easy task. There's a lot to consider, from changing weather and activity levels to distinct styles and a vast array of features. Following this guide should help you narrow down your options, though, and with a little bit of research, you can find the perfect tactical jacket for your next assignment.
Did you find this article helpful?