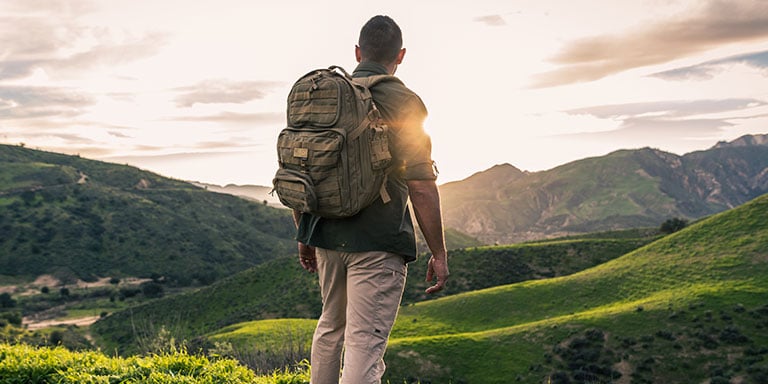 There's nothing quite like going on a hike. The scenery, the sounds of nature and the smell of fresh air is refreshing and invigorating. Before hitting the trail, however, it's important to have on the right footwear. The length of your trip, the weight you're carrying, the terrain you'll be on and the weather you may encounter are just a few aspects that will determine the footwear you should choose. Navigating these factors is tough, so we created the ultimate guide to help you find the perfect pair of hiking boots for your adventure.
Types of Hiking Boots
Hiking boots differ from tactical boots and military boots in a number of important ways. While military footwear adheres to strict standards regarding its materials, hiking boots are more versatile in terms of materials and designs. For this same reason, hiking boots and shoes are often lighter and more comfortable than their tactical and military counterparts. They also look less aggressive and more inconspicuous in a recreational setting. Here are some common styles of hiking boots and the kinds of outings on which they're regularly used.
Hiking Boot Components
It's good for hiking boots to be comfortable, lightweight and to provide traction on rough terrain. But what makes these boots comfortable? Which materials make them so lightweight? How is it that they provide such great traction? Examining the components of a hiking boot will offer an explanation into what makes them operate so well. It will also help you understand what to look for when choosing the right pair.
Hiking Boot Upper

Hiking Boot Midsole

Hiking Boot Outsole
Hiking Boot Uppers
The upper is the portion of the boot that wraps around the foot and the ankle. Uppers comprise most of a boot's volume and, when made right, they're rugged and durable. Leather is the primary material in a hiking boot's upper. Leather uppers take time to break in correctly, but it's important to allow for this time to avoid blisters. Different kinds of leather breathe, flex and handle water differently, so you should choose your boot leather carefully. Here are the most common types.
Full-grain Leather
Made from the top portion of a cattlehide, full-grain leather is very high quality. Durable and resistant to abrasion, this leather is built for long outings on tough terrain. It's very supportive due to its relative rigidity, but it still provides enough flexibility for you to move without restriction. Full-grain leather doesn't breathe very well, but it is naturally water-resistant, so it's great for both inclimate weather and walking through streams and creeks.
Split-grain Leather
Thinner and softer than full-grain leather, split-grain leather (or suede) is made out of the flesh-facing portion of a cattlehide. This type of leather is often paired with nylon or mesh in a hiking boot upper. Because it's less thick than full-grain leather, it is neither waterproof nor as supportive as full-grain. It is more lightweight and breathable, however, and it's more flexible. Due to these qualities, split-grain leather tends to cost less than full-grain leather.
Nubuck Leather
Nubuck leather is made from the outside portion of a hide. It is essentially full-grain leather that is buffed to look like suede. As a result, it provides the fuzzy look and feel of suede that many people like while maintaining the durable toughness of full-grain leather. Though it is a bit softer than full-grain, nubuck leather is just as supportive, water-resistant and abrasion-resistant.
Synthetics
Sometimes, hiking boot uppers aren't made of leather at all, but synthetic materials like polyester or nylon. While these synthetics tend to wear out more quickly than traditional leather, they are generally lighter, they breathe well and they cost less. They also break in more quickly than leather hiking boots.
Hiking Boot Midsoles
The midsole, or the area of a boot between the outsole and the upper, is a very important component. The material and design of the midsole goes a long way in determining the comfort level of a hiking boot. There are two very common materials used in a boot's midsole: polyurethane (PU), and ethylene vinyl acetate (EVA).
PU
Polyurethane is heavy, dense, and often requires a relatively lengthy break-in period before it starts to feel comfortable. It does, however, tend to last longer than EVA before wearing out. Flexible, light and ultra-resilient, polyurethane is more expensive than EVA, but the extra price is often worth the added durability.
EVA
Midsoles made from EVA are very densely cushioned and comfortable right out of the box. Because of this, they do end up losing their form and flattening out more quickly than PU midsoles. For this reason, they are generally less expensive and better to purchase if you're on a budget.
Hiking Boot Outsoles
A hiking boot's outsole is the portion that makes direct contact with the ground. It needs to be dense and durable enough to provide protection from rocks, roots and sharp objects, but light enough not to increase the overall weight of the boot. Through both their materials and construction, hiking boot outsoles are intuitively designed to strike this important balance.
Rubber
Most hiking boot outsoles (and the outsoles of most boots in general) are made of rubber. A grippy, waterproof substance great for walking on rough, outdoor terrain, rubber is an ideal material for hiking boot outsoles. Whether you're hiking through a creek or on dirt, grass or rocks, rubber outsoles provide proper traction and protection.
Lug Patterns
Lug patterns are deep grooves in the rubber outsoles of a boot. In between the grooves are cleat-like bumps that protrude and grip rough, uneven surfaces. It's very easy to clear mud, dirt and small rocks out of a boot's lugs. The tougher your hike, the deeper and thicker the lug patterns on your boots should be.
Hiking Boot Features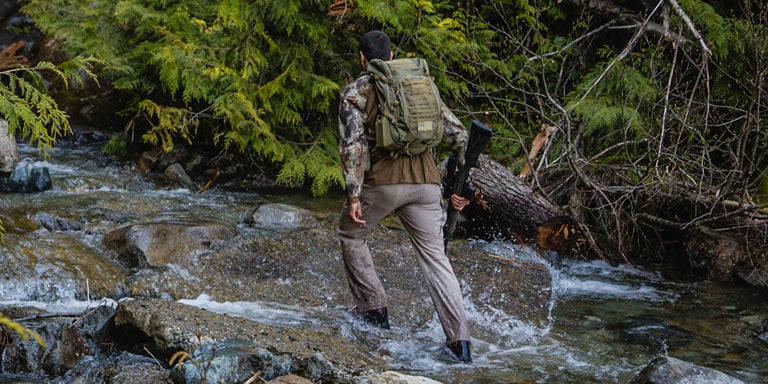 In the same way that there are many design components and materials to choose from, hiking boots also come with a variety of features tailored to specific hiking styles and environments. Your experience level, the weight you're carrying, the length of your trip and even the weather will play a factor in helping you decide which features you may need (or not need). Here are some of the most common hiking boot features and situations in which they may come in handy.
Waterproofing
If you're hiking around a river or in an area that receives a lot of rainfall, waterproof hiking boots are a must. One of the most popular waterproof membranes is GORE-TEX, a lightweight, all-weather, waterproof fabric that breathes well and keeps water out. Shop Waterproof Hiking Boots
Shanks
A shank is a metal plate fixed between the midsole and outsole of a hiking boot. Shanks offer extra stability and balance under particularly heavy loads. If you plan on carrying a large backpack filled with gear, consider a pair of hiking boots with steel shanks.
Gusseted Tongue
Unlike a normal boot tongue, a gusseted tongue is sewn to the sides of the boots. This helps to block out rocks, water and debris that may otherwise find its way into the footbed. Gusseted tongues are good when you're hiking wet trails or footpaths with a lot of dirt and rocks.
Removable Footbed
If you don't find the footbed that came with your boots to be very comfortable, chances are it's removable. This will allow you to insert your own personalized orthotic for maximum comfort on your trips.
Padded Collar
Your footwear can never have too much comfort. Hiking boots with a padded collar offer even more comfort around your ankles; this may come in handy after eight hours on the trail. Padded collars even offer a little bit of extra ankle support during your outing.
Insulation
When you're hiking in the cold, insulated boots can mean the difference between warm comfort and frostbite. Insulated hiking boots utilize a blend of micro fibers called Thinsulate. Thinsulate is measured in grams; the higher the volume, the better the insulation. Shop Insulated Hiking Boots
Insoles
Just like a hiking boot's midsole, insoles are either made of polyurethane (PU) or ethylene vinyl acetate (EVA). PU is tougher and holds its form longer, but it does cost a bit more. EVA is nice and soft out of the box, but it compresses and loses its form more quickly than PU. Insoles made with PU or EVA are simply a point of personal preference.
Crampon capability
Some hiking boots are made with the ability to accommodate crampons. Crampons are a frame made in the shape of a boot's outsole with metal spikes attached to the toes and the bottom. These spikes help a hiker or climber tightly grip onto snow and ice. Crampons are generally used by very advanced cold weather hikers and climbers.
Fit Tips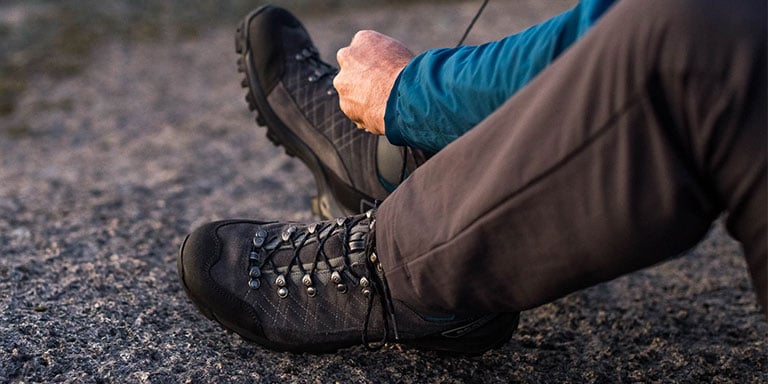 Once you navigate your options and finally find the perfect pair of hiking boots, the final step is making sure your boots fit. There's nothing quite as annoying or uncomfortable as a boot that is either too tight or a boot that just won't stop flopping around with each step you take. These tips will help you ensure that your hiking boots fit perfectly before you hit the trail.
Consider a brand you've already worn
Each brand makes their footwear a little differently, but brands tend to make their own footwear fit pretty consistently. If you've found a brand you like to wear, continue to buy your boots from them as you'll already be familiar with how their boots fit.
Try your boots on in the afternoon
It's very well established that our foot sizes tend to change (albeit slightly) throughout the day. Toward the late afternoon, our feet swell to reach their largest size. Try boots on during this time so you don't end up buying them too small.
Try your boots on with your favorite socks
When you try new boots on for the first time, it's important to try them on with the kind of socks you plan to wear consistently. This way, you'll have the very best sense of how your boots will feel on your feet. Shop Hiking Socks
Include your orthotics
It may seem obvious, but if you have orthotics, be sure to try your boots on with them. After all, you'll want to make sure your orthotic fits the boot, feels right and stays in place on your feet.
Consider aftermarket insoles
If you don't have an orthotic but you tend to have trouble finding comfortable footwear, it may be wise to invest in a pair. Make sure you talk to a podiatrist to ensure you get the best orthotics for your feet.
Compare your feet to the footbed
If the boots you're after have a removable footbed, take the footbed out and compare your foot to it. This method is not as effective as actually having your foot inside the boots, but it will provide you with a visual of how the boots are supposed to fit.
Lace your boots well
Don't underestimate a boot's laces. They can provide some looseness in an overly tight boot or make a loose boot fit that much better. Removing the laces, sliding the boot on and then lacing up the boot again will give you a great sense of how the boot fits.
Make sure your toes don't touch the front
Put on the hiking boots you'd like to buy. Once you have, try curling your toes. If you can curl them with no problem, that's good — it means they offer plenty of room for your feet. If you can't curl your toes, the boots are probably too tight.
Make sure your heels don't rub
Conversely, you don't want your heel to rub against the back of your boot. This will cause blisters and will result in great discomfort on your hike. Your heel can (and should) touch the back of the boot; just make sure the boot doesn't rub your heel.
Try a wide toe box
If you are prone to getting blisters on or between your toes, try to find a pair of boots that feature a wide toe box. The extra room goes a long way toward keeping blisters at bay.
Break your boots in before hiking in them
Finally, perhaps the most important tip is to make sure your boots are broken in before you head into the wilderness. The last thing you want is to end up with stiff boots while you're on rough terrain with a heavy pack on your back. Wear your boots to work, to run errands or even just around the house. Breaking them in before your hike will save you a lot of pain later on.
All hikers need footwear that fits their specific needs. Those needs change based on your experience level, the weight you're carrying or the terrain you're hiking. The most important thing to understand when buying hiking boots is that there are many different styles, materials and features that all cater to very individualistic needs. As you discover your style as a hiker and familiarize yourself with the long list of available footwear features and types, you will be well on your way to finding the perfect pair of hiking boots.
Did you find this article helpful?