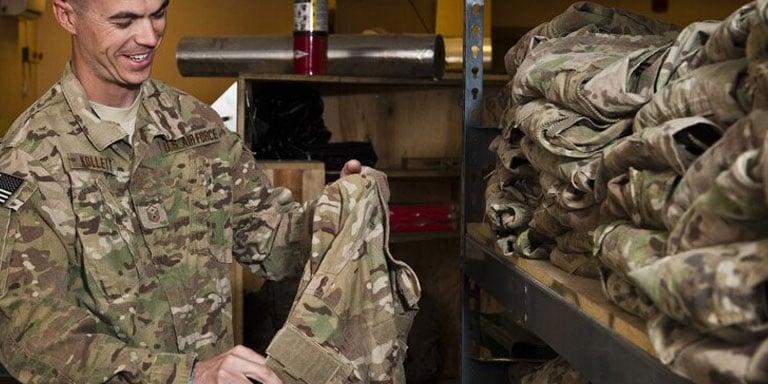 Don't have the desire to flip through pages of tedious regulation? We got your six. Soldiers, airmen and Space Force service members can consult this guide for everything you need to know about the uniform required for each branch. The Army moved to the OCP uniform in 2015, with the Air Force following suit soon after. Shortly after the creation of the U.S. Space Force, its adoption of the uniform was also announced. From coats and pants, to accessories and boots, we outline OCP uniform components that are approved and ready for battle.
OCP Uniform
OCP Uniform Coats

You can recognize the approved OCP uniform coat not only from its Scorpion OCP pattern in durable ripstop fabric, but also through distinct features. Direct feedback from post-combat surveys inspired construction updates. Answering the demand for more storage and patch space, the upper-sleeve pocket is full-inch longer than previous uniform coats. To top it off, a fold-down collar provides a clean, traditional appearance.

With the OCP coat, commanders can authorize sleeves to be rolled up, so it's a good idea to learn how to roll your uniform sleeves camouflage out However, cuffs must remain visible and the sleeve must rest within 1 inch of the forearm when the arm is bent at 90 degrees. Shop OCP Uniform Coats

OCP Uniform Pants

Every feature on OCP uniform pants has been thoughtfully designed to enhance performance in operational settings, from the ripstop Scorpion OCP camouflage fabric to the abundance of storage. Reinforced knees, rip-resistant fabric and military-grade stitching ensure these trousers will withstand whatever you throw at them. Look for the silent button-closure pockets, an upgrade from noisy, cover-blowing Velcro pockets on previous combat uniforms. Plus, a traditional button-fly mimics the legendary battle dress uniform, while also promoting a neat, professional appearance. Shop OCP Uniform Pants
Hot Weather OCP Combat Uniform
In 2020, a hot-weather OCP uniform design was finalized for wear in extremely hot or wet conditions. Made from a 57/43 nylon-cotton blend, the improved hot weather combat uniform (IHWCU) is a softer, lighter, more breathable fabric than the original uniform. It's engineered to dry quickly and perform better in the heat.
There are other notable differences, including streamlined cargo pockets, button-flap closure shoulder pockets, and most noticeably, the absence of chest pockets. Uniform officials finalized the design after extensive research and post-combat feedback from soldiers.
OCP Name Tapes & Insignia
The thread color of name tapes, rank and American flag patches are specific to each military branch utilizing the uniform: black for Army soldiers, spice brown for Air Force and blue for Space Force service members. These can be either Velcro or sewn on— however, they must all be affixed in the same manner. Airmen and Space Force members may purchase name tapes with hyphens and accent marks to accurately reflect the spelling of their names. All three branches use a three-color OCP pattern on their name tape and rank insignia.
Both Army and Air Force use the same patch configurations with officers and enlisted both wearing rank insignia in the middle of their chests. Airmen no longer wear their rank insignia on their sleeves or collars. Airmen also now have their last names on the back of their patrol caps.
For the Air Force, the change to OCP also brings a "sleeve swap." The squadron patch is now on the right sleeve along with the U.S. flag and the higher headquarters patch moves to the left sleeve.
Shop OCP Name Tapes & Insignia
OCP Uniform Boots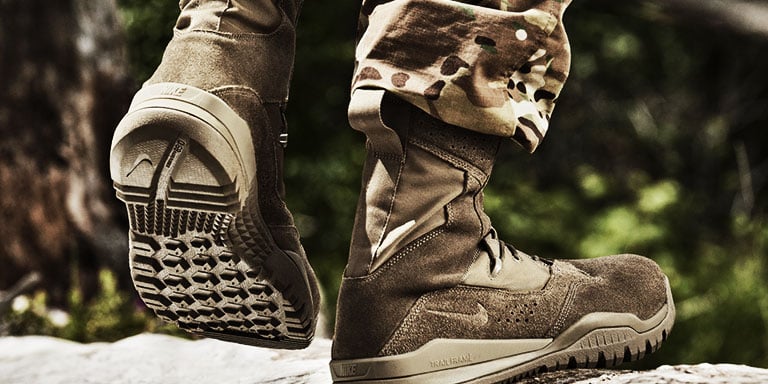 Dark, stain-hiding and more effective at providing concealment than the lighter desert tan boots, coyote brown boots were adopted in conjunction with the announcement of the new OCP uniforms. Both Army and Air Force OCP boots must be in the approved, darker colorway, as well as eight inches high with a leather upper and full-rubber outsole. To comply with AR 670-1, soldiers' boots cannot have a safety toe or side zipper. Unlike the Army, the Air Force AFI 36-2903 regulation allows for both a safety toe and a side zipper. Commanding officers have the final say on which boots can and cannot be worn. Learn more about how to choose military boots. Shop OCP Uniform Boots
Boot blousing is a very important aspect of the OCP uniform (and is often required). Blousing provides a clean, professional look and prevents dust, grit and insects from entering your boots. Some uniform pants styles come with blousing straps, but you can also purchase blousing bands separately to make the process easier. Our video on how to blouse military boots will help you perfect your blousing technique.
OCP Uniform Combat Shirts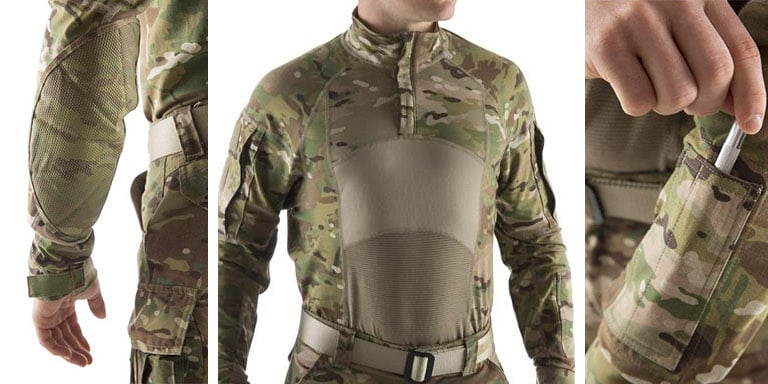 In 2015, the Army updated the combat shirt to coincide with the transition to OCP uniforms. The new version, known as Combat Shirt Type II, boasts more camouflage coverage on the sides and chest. Shop OCP Uniform Combat Shirts
OCP Uniform T-Shirts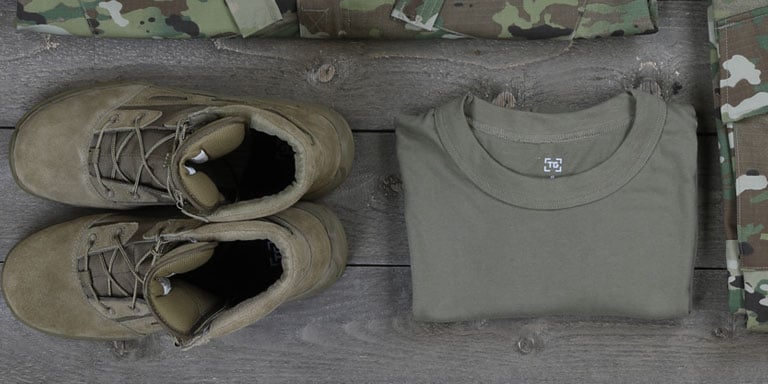 The operational camouflage pattern is darker than previous combat patterns and requires a complementary base layer. The Army opted for a tan 499 t-shirt, which is slightly darker than the previous sand shirts. The Air Force requires an even darker coyote brown t-shirt. Both branch regulations call for a crew neck, short-sleeve style. Shop OCP Uniform T-Shirts
OCP Uniform Tactical Caps
In June 2021, the Air Force authorized the wear of tactical caps in the operational camouflage pattern. Prior to this announcement, only airmen deployed to the US Central Command area of responsibility (including the Middle East and Central Asia) were permitted to wear baseball style tactical caps while in uniform.
This authorization took immediate effect across the service and includes strict regulation for the style of the cap. Caps worn with the OCP uniform must be entirely made from the operational camouflage pattern, or with a coyote brown mesh back. OCP name tapes with spice brown thread can be sewn-on to the back of the cap or affixed with Velcro.
The new regulation does not allow Velcro or any loop field on the front of the cap unless worn by an officer. In addition, officers are only allowed to wear their rank symbol on the front of the cap while chaplains may wear a chaplain occupation badge. Previously popular hat decorations, such as subdued American flags or morale patches are not authorized.
Authorized Cold-Weather Clothing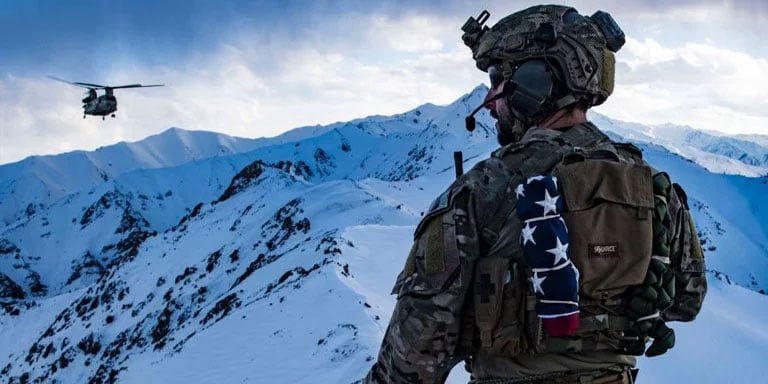 Army
The Army has yet to incorporate OCP with its Organizational Clothing and Individual Equipment (OCIE) so there is no requirement for these items to be the same camouflage pattern as the uniform being worn. This includes cold-weather gear such as fleeces, soft shells, and the Extended Climate Warfighter Clothing System (ECWCS). Any item normally issued from the CIF is permitted for wear, with no restriction based on camo pattern or color.
ECWCS is a layer-based apparel framework made for moderate to sub-zero climates. Through extensive development, the ECWCS has multiple generations: ECWCS Gen I, II, and III. The most sophisticated version of the system, Gen III is authorized for wear. This system incorporates a baselayer, a midweight baselayer, a fleece, softshell jackets and pants and a heavier parka and pants.
Shop ECWCS Gen III | Learn More about ECWCS
Air Force
The Air Force previously used the All Purpose Environmental Clothing System (APECS) for cold-weather climates (outdoor use only). With the transition to OCP, airmen may now wear the Extended Cold Weather Clothing System (ECWCS) in the operational camouflage pattern. Mixing and matching of ABU or OCP cold weather clothing with the ABU or OCP uniform is prohibited, with the exception of the Level 7 Parka Jacket.
Shop ECWCS Gen III | Learn More about ECWCS
OCP Gloves, Belts & Accessories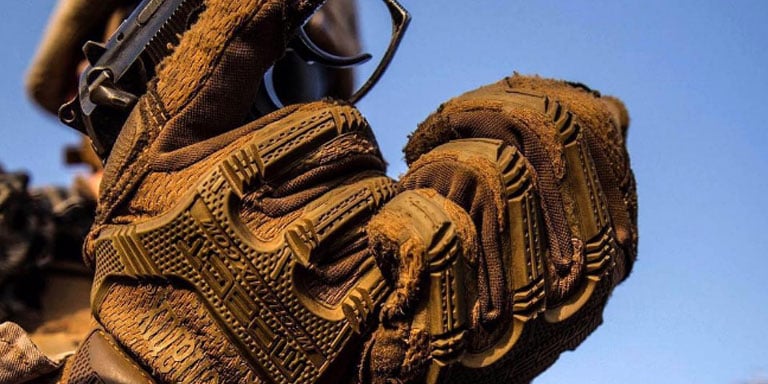 Regulation calls for gloves to match footwear in the coyote brown colorway. Belts, thread and zippers need to be tan 499. Shop OCP Gloves, Belts & Accessories
Women's & Maternity Uniforms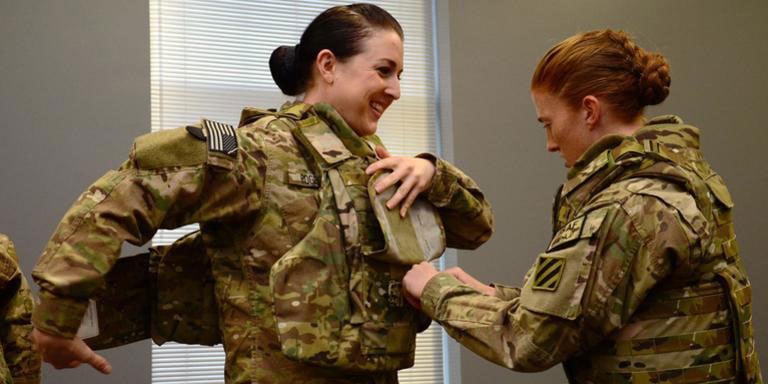 For decades, women in the armed forces had to settle for uniforms designed for men, just in smaller sizes. This is not the case for the OCP uniform. It's available in female designs cut with more room in the hips and legs with a more tailored coat. The OCP uniform is also available in maternity sizes, available at both Army and Air Force Exchange Stores. Shop Women's OCP Uniforms
Mandatory Possession Dates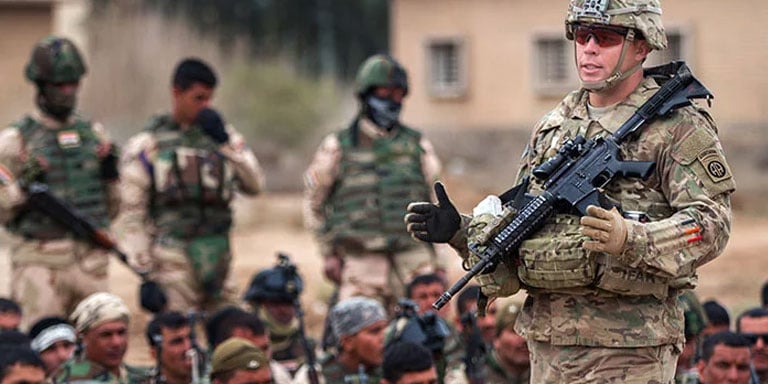 Army Transition Dates:
UCP ACU wear-out date: September 30, 2019

OCP ACU mandatory possession date: October 1, 2019

OEF-CP wear-out date: September 30, 2019
Air Force Transition Dates:
Digital tiger stripe ABU wear-out date: March, 31, 2021

OCP Uniform mandatory possession date: April 1, 2021
Combat Uniform History
On July 31, 2014 the Army officially announced that a new camouflage pattern, known internally as Scorpion W2, will be named the Operational Camouflage Pattern (OCP). Not only did this new pattern replace MultiCam, which acted as the OCP until 2015, but it also replaces Universal Camouflage Pattern (UCP) as the official uniform pattern. For more than a decade, the Army has relied on the widely unpopular UCP as the official standard-issue pattern. Along with the camouflage update, the uniform construction, accessories and footwear were also changed.
The Air Force followed suit with an announcement made Monday, May 14, 2018 that the branch would be replacing the digital tiger stripe Airman Battle Uniform (ABU) with the OCP uniform. Shortly after the creation of the U.S. Space Force, its adoption of the uniform was announced January 17, 2020.

Construction changes were also implemented with the release of the new OCP uniforms.
The upper-sleeve pocket features a zipper closure instead of a Velcro closure for easier access.

The upper-sleeve pocket is at least 1 inch longer. Feedback on post-combat surveys showed that soldiers require roomier pockets and more room for patches.

The new uniforms no longer offer internal elbow pads and Velcro elbow patches. Both those characteristics were found useless in the field and deemed a waste of money. However, one feature that will stay the same is the doubled fabric for extra reinforcement on the elbow area.

Removal of the cord-and-barrel lock on the cargo pocket.

Uniforms no longer feature knee pads or patches. There is still reinforced fabric in the knee area.

The lower-leg pocket has previously used a Velcro closure. It now features a one-button closure instead.

The mandarin collar is no more. Instead, you'll see a traditional fold-down design.

Only two pen pockets instead of the usual three.

After complaints that the drawstrings on the uniform pants' waistband looks unprofessional, it was proposed they be removed from new pants.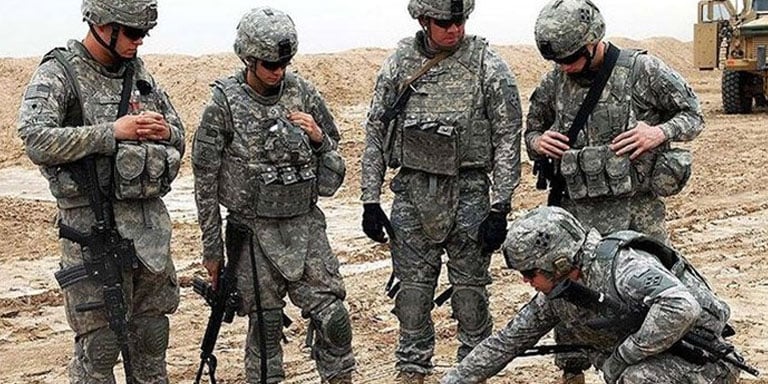 Camouflage Field Testing
In 2002, the Army began the Universal Camouflage Trials in order to choose a pattern for the new Army Combat Uniform. In 2004, it selected Universal Camouflage Pattern (UCP) as the official standard-issue pattern. The decision has been widely unpopular with Soldiers who claim the pattern yields poor results in most environments.
Only a few years after selecting UCP, the Army began looking for a new design. In 2009, congress responded to Soldier's concealment concerns by passing a bill requiring that the Department of Defense "take immediate action to provide combat uniforms to personnel deployed to Afghanistan with a camouflage pattern that is suited to the environment of Afghanistan."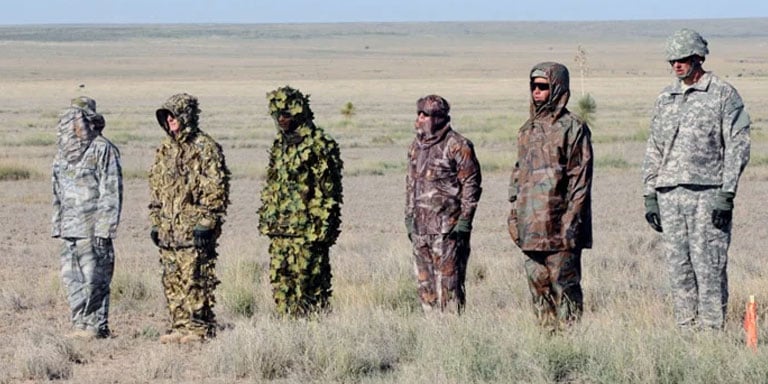 The Army began a four-phase research and testing process to find a new pattern. In the meantime, MultiCam was recommissioned, replacing UCP for troops deploying to the War in Afghanistan. The Army's extensive camouflage testing includes photo simulation and actual field tests designed to determine effectiveness. At the end of the field testing, Scorpion was named as the winner and adopted as the new operational camouflage pattern.
Did you find this article helpful?