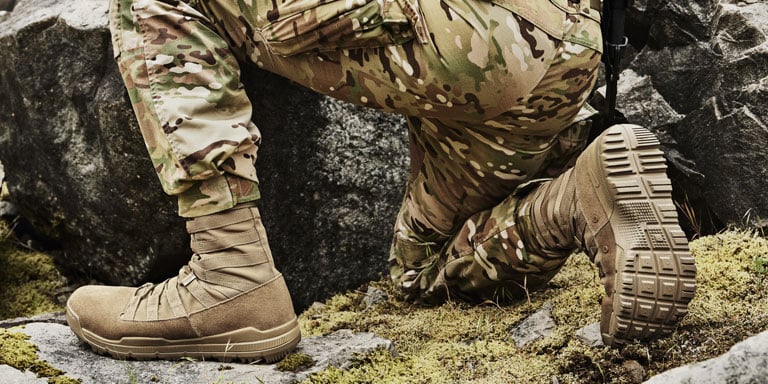 There is no single set of rules for military footwear — requirements vary by branch and even by unit. Choosing the right pair of military boots is a daunting prospect with virtually endless options. To help you find the perfect pair authorized for wear, we'll consider five key areas.
Types of Military Boots
Army Boots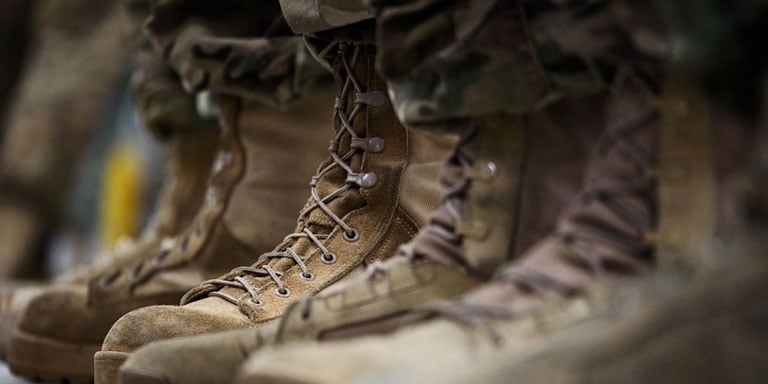 At a Glance
Color: Coyote brown
Height: 8"
Toe Type: Soft toe
Material: Flesh-out cattlehide leather
Regulation: AR 670-1
With the arrival of the new OCP uniform, soldiers switched from desert tan boots to coyote brown boots. To meet AR 670-1 requirements, soldiers' boots must also be eight inches high and feature a soft toe.
Air Force Boots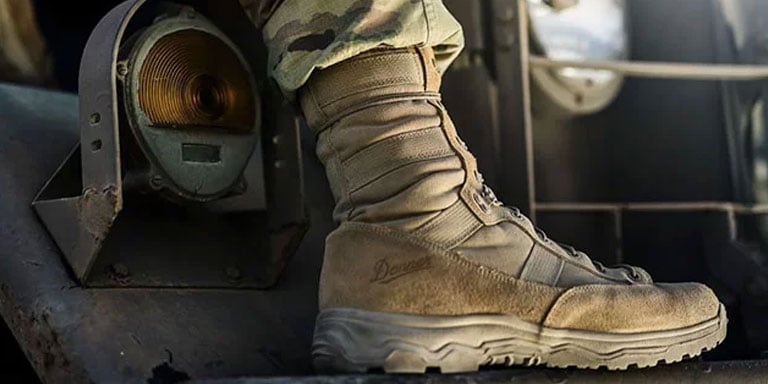 At a Glance
Color: Coyote brown
Height: No restrictions
Toe Type: Soft toe or safety toe
Material: Flesh-out cattlehide leather
Features: Side-zip (optional)
Regulation: AFI 36-2903
Like the Army, the Air Force also adopted the OCP uniform, which means they too must wear coyote brown boots. While the Air Force is phasing out their sage green footwear, airmen may still use boots with composite toe boxes and side zippers.
Coast Guard Boots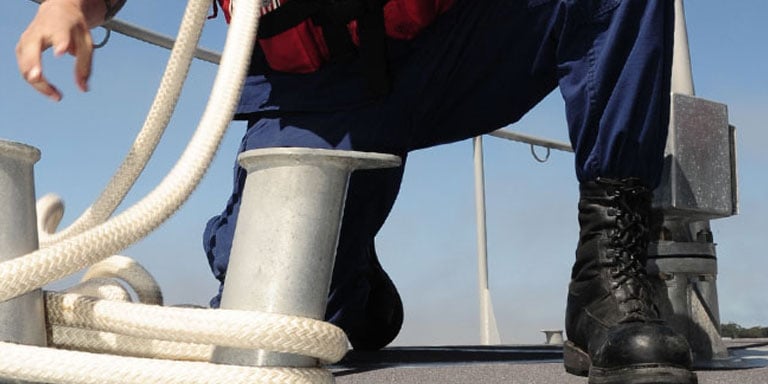 At a Glance
Color: Black
Height: 8" - 10"
Toe Type: Composite Toe
Regulation: M1020.6J
The Coast Guard requires personnel to wear black, 8" - 10" boots with a composite toe cap for protection against heavy equipment. Barring those few requirements, the list of features is up to the guardsmen. Waterproof and slip-resistant styles are popular choices.
USMC Boots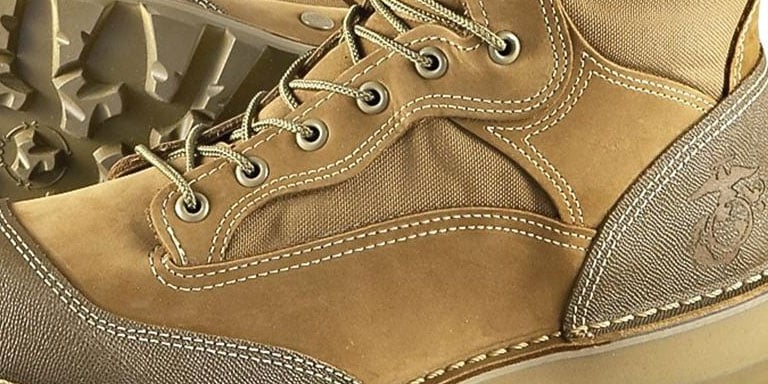 At a Glance
Color: Olive mojave or coyote brown
Height: 8"
Toe Type: Soft or steel toe
Material: Flesh-out cattlehide leather
Features: Eagle, Globe and Anchor insignia
Regulation: MCO 1020.34H
Marines' footwear choices are highly regulated. Their boots must feature an olive mojave or coyote brown colorway with the USMC Eagle, Globe and Anchor insignia on the heel. Marines may choose between soft toe or steel toe boots depending on their preference.
Navy Boots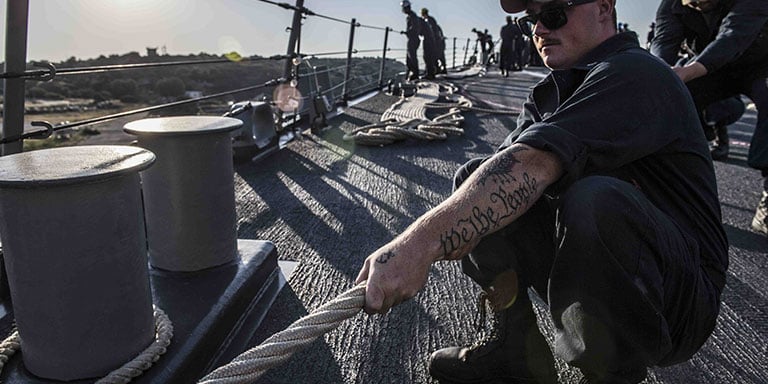 At a Glance
Color: Black
Height: 8" - 9"
Toe Type: Steel toe
Material: Smooth Leather
Regulation: 15665I
Navy sailors must wear steel toe boots that are black in color (although coyote brown or chocolate brown may be permissible in some instances). For extra slip resistance and water protection on deck, sailors may consider boots with a Vibram outsole and GORE-TEX lining.
Space Force Boots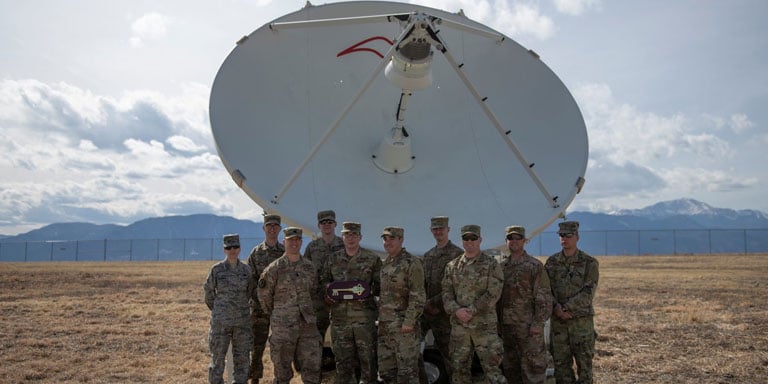 At a Glance
Color: Coyote brown
Height: 8"
Toe Type: Soft toe
Material: Flesh-out cattlehide leather
Regulation: AR 670-1
The United States Space Force, the news branch of the U.S. military, announced that it decided to adopt the same uniform regulations as the Army. As a result, Space Force members 8" coyote brown boots with a soft toe.
Military Boot Features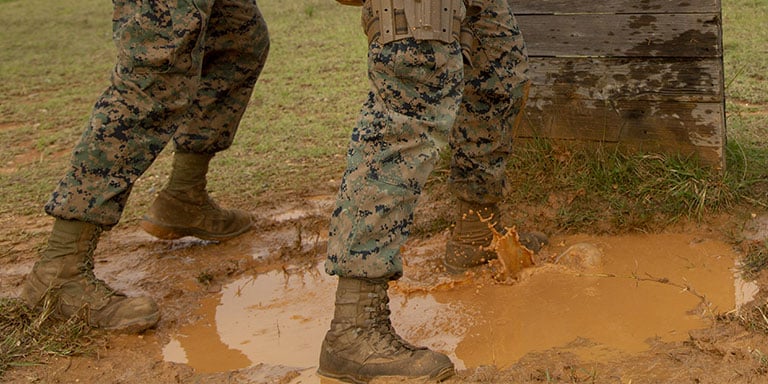 After your boots meet standard branch requirements, you have many additional choices of footwear characteristics. Here are some common options:
Military Boots Compliance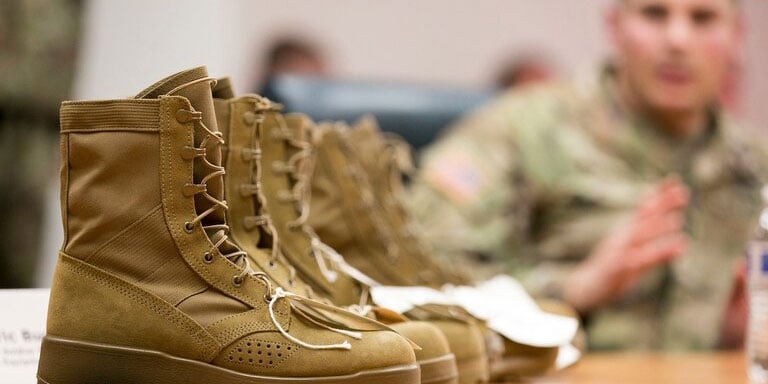 A number of compliance considerations exist to protect supply chain interruptions caused by military conflicts. We'll help you navigate the purchasing restrictions military personnel often face and examine how they fit into the framework of our national security.
Berry Compliant
Berry-compliant boots must adhere to the Berry Amendment in which the Department of Defense stresses preference to goods produced in the United States. The materials of these products are American-made and the products themselves are manufactured on U.S. soil. Berry-compliant boots are unlikely to face conflict-based supply chain interruptions. Shop Berry Compliant Military Boots
GSA Compliant
Congress established the Trade Agreements Act of 1979 in an attempt to create an open and fair international trading system. TAA goods are produced either in the U.S. or by an international ally. The General Services Administration (GSA), which supplies products to U.S. government agencies, defers to the TAA when selecting its goods. GSA compliance ensures boots are produced in the USA or, at the very least, by a trading ally. Shop GSA-Compliant Military Boots
Made in the USA
"Made in the USA" is a classic stamp of approval many customers look for when buying boots. Products with this label support the American economy and American workers. Boots designated "made in the USA" are assembled in domestic factories. The materials of these boots may come from abroad which might increase the likelihood of supply chain interruptions in the event of war, but the boots themselves are made right here at home. Shop Made in USA Military Boots
Military Branch Compliance
Each branch of the U.S. Military has thorough documentation of their footwear requirements. We outlined the basic elements for each branch in the Types of Military Boots section above, and we included links to the specific regulations themselves. Remember that your commanding officer has the final say in what is approved for wear and you will need to defer to their judgment above any other published guidelines.
Military Boot Components
There are three main components of a military boot: the upper, midsole and outsole. Each component is unique and serves an important purpose in a boot's construction.
Military Boot Upper

Military Boot Midsole

Military Boot Outsole
Military Boot Upper
A boot's upper is the portion that wraps around your foot and (sometimes) up to and above your ankle. Uppers are made of many materials based on your service needs. Here are some upper materials to consider when choosing your boots.
Flesh-out leather
Flesh-out leather is just what its name implies: the flesh-facing portion of the leather faces outward. The Army, Air Force and Marine Corps require this kind of leather for its durability.
Suede
Also made from the flesh-facing portion of a hide, suede is known for its fuzzy texture. It is softer and more flexible than top grain leather but not as durable. Suede's flexibility means it is light, making it prime material for lightweight boots.
Genuine leather
An item made of genuine leather is simply made of animal leather (as opposed to synthetic leather). Genuine leather is one of the poorest grades of leather, often produced from leather scraps or leftovers.
Synthetic leather
This leather is not made from animal hide, but a polyester base with a polyurethane coating. It is more cost-effective than cattlehide leather but lacks quality and durability. If you need boots on a budget, synthetic leather is a good choice.
Cordura
Cordora is a fabric made of nylon and blended with cotton. Highly durable, it is resistant to scuffs and tearing. These properties make it an excellent choice of upper material.
Waterproof membranes
Waterproof membranes let water drain and keep water out. GORE-TEX is perhaps the best waterproof membrane for its flawless combination of waterproofing and breathability. GORE-TEX military boots offer comfortable, consistent levels of moisture protection.
Military Boot Midsole
The midsole is the portion of the boot right below the removable insole. A midsole's material directly affects a boot's comfort level. Here are some common midsole materials.
Ethylene Vinyl Acetate (EVA) Cushioning
The most common midsole material, EVA, is comfortable and compression-resistant. Though EVA insoles may lose their form over time, an after-market insole can fix that. Boots with EVA midsoles help ease foot pain. Shop EVA-cushioned military boots for maximum comfort.
Polyurethane (PU)
Polyurethane midsoles are heavier than EVA, so they keep their form over a longer period. As a result, they tend to be pricier than EVA midsoles. Consider PU midsoles to avoid wear and tear in your boots.
Shanks
Shanks are steel plates embedded in a boot's midsole. They provide protection against nails or jagged metal that may pierce a boot's sole and they provide balance when carrying heavy gear. Shop military boots with steel shanks for an unmatched level of protection.
Military Boot Outsole
A boot's outsole makes direct contact with the ground. Outsoles offer protection between your feet and potential hazards you may step on while providing support, traction and comfort, too. Here are some outsole characteristics.
Rubber
Rubber is a common outsole material. One of the most popular rubber blends is Vibram. Grippy and flexible, Vibram holds its form and offers unparalleled traction on uneven surfaces. Shop our selection of rubber-soled military boots, or shop military boots with Vibram outsoles to experience the comfort and protection of a classic, high-performance rubber blend.
Polyurethane (PU)
Polyurethane is mostly used in midsoles, but some boots do have PU outsoles. Polyurethane's wear resistance and waterproof properties make it an excellent choice of outsole material. Choose boots with PU outsoles for extra protection underfoot.
Lug (tread) Pattern
Lug patterns are deep grooves in the sole of your boots. Military lug patterns are engineered with duty in mind: they are wide enough to clear themselves of mud and they give you grip on slippery surfaces. They accommodate climbing, rucking and running in sand. Consider boots with wide lugs for extra traction and balance.
Fast-roping arch
Fast roping is a dangerous technique, especially with the added weight of your gear. These high, sharp arches on the outsole of a boot help fast-ropers control the speed of their descent. Boots with these arches are especially useful for Marines, who fast-rope often.
Military Boot Fit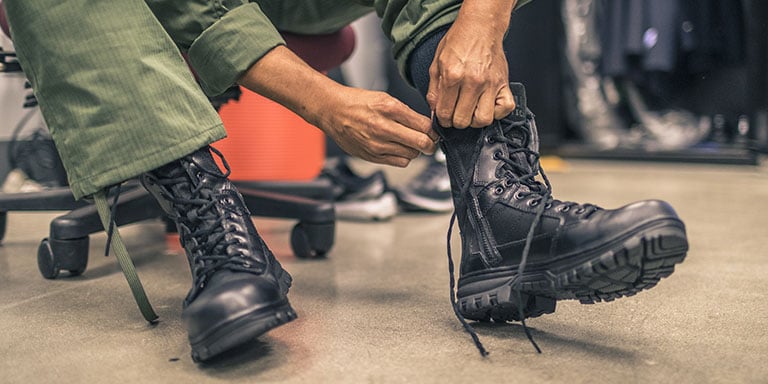 Fit is perhaps the most important aspect of your boots. It is very important to understand that the fit can vary greatly by brand and style. The following tips will help you understand foot sizes, widths and everything else that goes into making sure your boots fit well.
Width
Many military boot manufacturers produce wider styles of their boots to accommodate bigger feet. Generally, a wide style has 1/8" added to the overall size of the boots in all directions. This results in approximately 1/4" total in additional width. It's this slight but important size increase that can mean the difference between irritation and relief.
For some, even a wide is not wide enough. Brands often produce "extra wide" and "extra extra wide" boots. Each increase represents another 1/8" added to the size of the boots. Unfortunately, there is no labeling standard for these widths. No two brands necessarily label "wide," "extra wide," etc. the same way. This results in inconsistent labeling standards across the industry. We recommend checking the size charts for each brand to understand their labeling process.
Boot Blousing
Blousing military boots is often a uniform requirement. It provides a clean, professional look and prevents dust, grit and insects from getting in. If your boots fit well, blousing them should be no problem. Some uniform pants styles come with blousing straps, but you can also purchase blousing bands separately to make the process easier. To learn how to blouse properly, take a look at our video on how to blouse your military boots.
Fit Tips
Finding military boots that fit can be the hardest part of the buying process. The following tips will help you to choose the right pair (or help you make sure the pair you already have fits well).
Use a Brannock device
A Brannock device is an oblong, ovular silver tool with sliders to measure the length, width and arch of your foot. Use one to find the exact measurements of your feet. The information will be useful when choosing your size.
Give your boots time to break in
Boots often come very stiff. The materials need to move and flex naturally on your feet throughout the day. The more you use them, the better your boots will fit and feel in the long run.
Shop within the same brand
Every brand sizes their boots differently. If you find a brand you like, stick with them. You'll become used to their footwear and have a better sense of what size you'll need when choosing your next pair.
Snug, but never uncomfortable
You don't want your boots to be too tight or too loose. Aim somewhere in the middle to the point where your boots don't move on your feet very much but they aren't causing you pain.
Toe room
Try this: put on your boots. Attempt to curl your toes. If you can without much trouble, your boots probably fit well. If you can't curl your toes, you may need to size up.
Socks
When you try on your boots for the first time, you should wear the socks you plan to wear consistently. Socks have different widths and material, so get a sense for how your feet feel in your boots when you have your everyday socks on.
No heel movement
Your heels should not slide around in your boots — you'll end up with blisters if they do. Walk around in your boots and make sure your heel is not rubbing the insole as you walk.
Adjust your laces
Laces are not just there to keep your boots on. They also add some much-needed tautness or slack. Try tightening or loosening your laces based on your needs.
Try aftermarket insoles
If comfort is your concern, try new insoles. Stock insoles are fine, but aftermarket insoles go the extra mile in their personalized fit and comfort. They might also add the right touch of tightness to loose boots.
Safety toes take up space
If you're wearing a safety toe boot, realize that the toe box takes up space. This will affect the fit of the boot and should be taken into account when choosing your size.
Selecting the right pair of military boots is a mammoth task with literally thousands of options. Between making sure your boots follow regulations, choosing the right features to fit your needs and finding the right fit, choosing the right boots requires a lot of care and research. This all-encompassing guide contains everything you need to know about finding the right pair of boots for your deployment. If you devote a bit of time and do your due diligence, you'll be well on your way to finding the perfect pair of military boots.
Did you find this article helpful?